Medium Well by Meg Benjamin is a perfect blend of romance and nerve wracking suspense!
Danny is a 'house whisperer' who has great success selling historical houses. When he's given the carriage house to sell at the Steadman estate though, this house not only comes with a history, it's a history that becomes so frightening even Danny is not sure he wants to know. As soon as he enters the carriage house he feels things he shouldn't feel…then he sees things he shouldn't be seeing. Danny is afraid he is losing his mind, and he might lose his job if he can't sell the carriage house.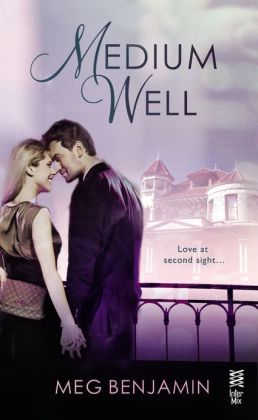 Biddy is working as Danny's assistant at the real estate office. Her heart is not in it though, no matter how much she's noticed Danny! At heart she is a musician, but she's promised her sister Arceli, the office manager, that she'd make a go at having a 'real' job. After all her sister has done for her after their parents died, Biddy feels she owes her. During the day she is a drab office assistant working on getting her real estate license, by night she is a beautiful, very talented musician playing with her band on various stages.
Biddy is with Danny when they show the carriage house for the first time, and even she can feel the cold in it seeping into her bones. She can't see what Danny can, but watching him is enough for her to know something is not right with the carriage house.
Together they start on a journey to uncover the secrets the carriage house holds, not knowing what they could set free. For Danny it is also a journey on which he discovers his mother's family mysterious history, how it affects him, and how it might help them. For Danny and Biddy it is an experience that will draw them together, and they notice each other more and more as something other than Biddy being Danny's assistant. Soon they are not only working together, but exploring a relationship outside of the office. Danny is falling fast for Biddy, especially the real Biddy.
"…Biddy Gunter reduced him to a stumbling mass of nerve endings…"
Danny is still reluctant to share his experiences though, still in denial and afraid of looking crazy. He really has little choice though, especially with his mother and Biddy involved. They both want to help him and he wants to protect them both.
"He sat still, willing the world to slide back into its usual order – the one where his sister wasn't a medium and where his mother didn't come from a long line of spook chasers. The one where he didn't see ghosts. That one."
Will he go too far trying to protect them? What will happen to the growing relationship between Biddy and Danny? Will they uncover the mystery of the carriage house before it's too late?
I really enjoyed both Danny and Biddy! The more I read, the more I saw how perfect they were for each other, it was fun to watch their relationship develop. Danny discovered parts of him that he didn't even know existed…they might have scared him, but they didn't scare Biddy off! He might be her boss in the office, but he never acted like he was better than her or knew what was best for her. I loved how he encouraged Biddy to follow her dreams, not only with his words but with his actions. Danny is finding it difficult to accept those unacknowledged parts of him, but Biddy seems to be the woman to help him. Biddy is stronger than she initially comes across in Medium Well. She loves her sister, is grateful for all she has done for her, and is willing to give back to Arceli. But Biddy will only go so far, and she has more backbone than you'd think. She was really good at appeasing her sister, while at the same time standing up to her. Biddy is not doing what makes her happy though…I really wanted her to be happy and doing what made her happy. She has always noticed Danny, and now that he's finally noticed her and likes what she feels is the real her, she is feeling very good about their blossoming relationship, even if she feels she has to hide it from her sister.
Biddy and Danny work really well together. They manage to get past the small stuff that too many times in romance novels get blown way out of proportion, which really made me like them even more! Meg writes some smouldering sex scenes in Medium Well that fit very well in the story line. We see how compatable Biddy and Danny are in and out of bed. The love scenes allow us to see the tenderness they feel toward one another, as they grow more and more attached to each other.
The characters really fit with the paranormal story line too, making what happens in Medium Well more realistic and something that possibly could happen…because you never know! Even if you don't believe in ghosts or hauntings, Meg will draw you in and have you scared to turn off the lights at times! I loved this book! Meg manages to give the reader of Medium Well every element you can expect from a paranormal romance. From tender love scenes to shivers of fright, I was drawn in to the mystery and terror of the Carriage House right along with Biddy and Danny.
Book Info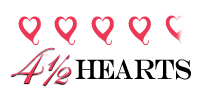 Publisher: InterMix (February 19, 2013)
Real estate agent Danny Ramos has always had a knack for selling homes, but when his boss saddles him with a neglected carriage house, Danny discovers that his abilities are more than simple intuition… 
On his first visit to the house, Danny is confronted with visions of a violent murder. His assistant, Biddy Gunter, doesn't seem affected, and Danny starts to think he's going crazy—until he gets a visit from his mother, who suggests that Danny's uncanny talent to sell old houses may stem from his family inheritance: psychic empathy.
When Biddy reveals to Danny her own strange dream about the carriage house ghosts, they team up to investigate and discover both the house's dark history and their own unexpected attraction. But as the hauntings turn from unsettling to downright dangerous, Danny and Biddy need to figure out how to rid the house of its ghostly inhabitants, before their budding romance meets an untimely end…