The Man Behind the Pinstripes by Melissa McClone: Caleb dreads meeting with his grandmother, Gertie Fairchild. Now that he runs the skin-care company she founded he has people to answer to – and those people aren't incredibly keen on adding a pet care line into the mix. He has to walk the edge between kindness and truth, and his Grams will know if he even hints at lying.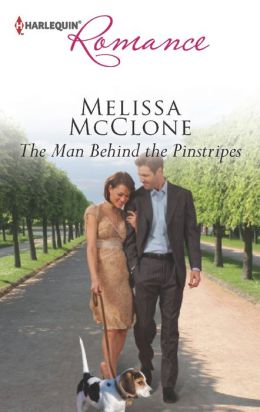 In the middle of his over-rehearsed speech, he notices the young woman corralling his Grandmother's dogs on the expansive back lawn. She tells him that she's her "consultant", Becca Taylor. Having been burned many times by people trying to get at the family's money, he's wary of the woman. She could be leading Gertie down the plumrose path to 'free-moneys-ville'.
Becca doesn't give a whit about the money, although truth be told – it would be nice to have some for a change. Gertie is the first person in a very long time that's been willing to give her a chance. She made the mistake of trusting someone in her youth and it cost her reputation and three years of her life. But she's paid her dues, even if she shouldn't have had to – and now finding somewhere to start her life again is a challenge.
When called to Caleb's office, she knows why. He's just like all the others. Seeing her past and thinking the worst. While disappointed, Becca doesn't hesitate to stand up for herself. It turns out that her determination was just the start to earning his respect – and maybe even friendship. Especially since she'll be seeing quite a bit of him.
While 'Fair Face' isn't willing to back Gertie's dog skin care products, Caleb learns that she might be yearning for more time with her family – so he offers to help Becca make up the business plan and put a few ideas into action. That includes accompanying her to a dog show to see product reception as she hands out leaflets and samples. When one of his Grandmother's dogs takes Best in Show, they have more to celebrate than they thought.
Gertie of course throws a big party back at the big house, and admits to Caleb that she's been trying to play matchmaker. Since he has no idea where their little kiss left them, he protests… weakly. He finds Becca hanging out in the kennel after becoming overwhelmed at the party, and his sister (Courtney) & Grams find them in a hotter embrace than they had the first night.
Just when Becca thinks there might be a future for Caleb and herself, his true colors start to show. He says the situation he's gotten in is for publicity, but he didn't tell her the truth – which says to her that he can't be trusted. She deserves more – and tells him so.
Can Caleb convince her that a girl from a trailer park will fit into his world after all? If Gram and his sister have anything to say about it, the answer will be yes.
This story was simply sweet. Not much steam, but the attraction between the hero and heroine was very well written – and I enjoyed Gertie and Courtney as well. I'm not sure if Courtney will be getting her own book, but I wouldn't mind hearing more about her. A very enjoyable read.
Book Info
Publication Date: June 4, 2013 | Series: Harlequin Romance (Book 4381)
His pinstripe suit is normally his armor…
Becca Taylor has worked hard to overcome her troubled past and start a new life. But when Caleb Fairchild marches into her life, the instant attraction between them is the last thing she needs!
CEO Caleb has learned the hard way not to suffer fools and to be careful of whom to trust. Why should Becca, gorgeous as she is, be any different? But he can't help but be drawn to her, to want to get close to her. So when her secrets are blown out into the open, betrayal seems inevitable. Unless the truth can start to crack the iron walls he's built around his heart.…