In Mommy, Nurse…Duchess? by Kate Hardy, Nurse Rosie Hobbes finds it hard to trust men after what her husband put her through.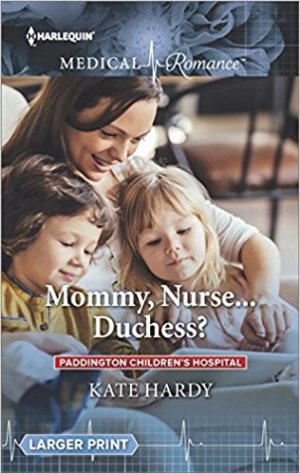 It's why she does her best not to get too close to the new doctor; a gorgeous man who will only be working at Paddington Children's hospital temporarily. Except the more time she spends around Leo Marchetti, the more she begins to see he's nothing like her ex. But when her ex's troubles come back and threaten the life she's worked hard for after his death, will she put her trust in Leo or turn her back on their relationship?
"You, Rosie Hobbes, are officially a rockstar."
She shook her head. "I'm just an ordinary nurse."
"Ordinary is definitely not how I'd describe you," Leo said.
Having really enjoyed the first two books of this series, I couldn't wait to read this one, and I've got to say that it is just as good as the first two. From start to finish, I was hooked by the main characters, as they go through a lot on their journey to happy ever after and both have compelling back stories that made me want to discover more about them. Rosie lived in terror because of the people that threatened her. All because her late husband was a gambler and after that mess, she doesn't believe she can trust another man. Can Leo gain Rosie's trust, especially when they're complete opposites and the fact that Leo's parents didn't approve of the last woman he was in a relationship with?
The way this story started had me liking the hero immediately, as he's using his status as a celebrity doctor to help the hospital get the publicity they need. It shows he's nothing like his father; a man only concerned with his title and not caring about anyone else but himself. What will Leo being a duke that loves working as a doctor do to help the hospital doors stay open? However, it was from the moment that the hero and heroine met that drew me into this story completely, because unlike everyone else Rosie isn't friendly towards him and he doesn't know what to make of her. Is it just him she has a problem with, or is it all men? Will he win her over and prove that he's a good man unlike her late husband?
"You need a dress for the ball."
"It makes me feel a bit like Cinderella," she muttered.
"Firstly," he said, "I'm not Prince Charming. Secondly, you're a first-class nurse, not a kid whose family treats her badly and turns her into a skivvy. And thirdly, is it so bad to enjoy a little bit of glitz and glamour just for one evening?"
I really liked the heroine, despite how way over-protective she is of her children. They mean the world to her and she's afraid her ex's problems may still come back to haunt her. Of course, doing what she did by choosing her children over her husband shows her strength and bravery, and I could understand why she was hesitant to give Leo a chance, especially since there's a moment where he lets her down in not following through on his words, which leaves her disappointed for her children as he's really good with her kids.
While Leo, I could sympathize with him for becoming a doctor instead of following in his father's footsteps. He wanted to do something with his life to give back to the people less fortunate than him, and to show that living a privileged life isn't all it's cracked up to be. I also liked how close he was with his mother, and that she's so different and more accepting now than when her husband was alive. Yet, what I liked most about the hero was his growing bond with the heroine's children. He was really good with them, and treated them like they were his own.
Overall, this book was an enjoyable read from start to finish where the secondary characters have a lot of chemistry that is hard for either to ignore, even though Rosie isn't sure whether she'll ever be ready to give happy ever after another chance. The way this story ended had me feeling sorry for the heroine because of what threatens to keep her and Leo from getting their happy ever after and what happens to one of her children. Luckily, Leo is there for her and she realizes she can't live without him. However, it was the epilogue that wrapped this story up perfectly, because of the surprise the heroine had for the hero. I would recommend Mommy, Nurse…Duchess? by Kate Hardy, if you enjoy the opposites attract trope or books by authors Karin Baine, Fiona Lowe or Annie O'Neill.

Book Info:

Publication: May 1st, 2017 | Harlequin Medical | Paddington Children's Hospital #3
The duke and the single mom!
Nurse Rosie Hobbes knows charming men cannot be trusted. Visiting pediatrician and sexy Italian duke Dr. Leo Marchetti is surely no exception! Her toddler twins are now the center of her life, and she expects Leo to run a mile when he meets them. Instead his warmth leaves her breathless!
Leo never expected to find joy as part of a family after his cold, aristocratic upbringing, but Rosie and her twins bring him to life. Can he prove to her he would make them the best husband and father—ever!