In Meet Me In Scotland (Kilts and Quilts #2) by Patience Griffin, big city girl from London meets very small town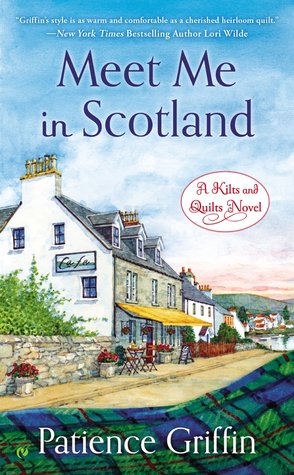 Gandiegow, Scotland. When a disastrous event threatens to end her career, Emma needs to get away for a while. She flees to Gandiegow, where her best friend Claire and her husband live. Little does Emma realize she's stepping into even more drama…from the man sent to pick her up at the airport to Claire and her husband's marital problems, Emma soon finds there is no time to dwell on her own problems!
Gabe is a man Emma hoped never to see again…but he also sets Emma's nerve endings on fire! In a small place like Gandiegow it's impossible not to see each other, especially when they have good friends in common who need their help. As they are drawn into Claire and Dominic's problems, they are also drawn to each other. But Emma doesn't believe in love or happily ever afters, and Gabe does. So much so that he's waiting for the perfect Scottish girl to come along. But what if that perfect girl isn't what's so perfect for him? Emma is not all all what he wants, is she? Circumstances draw them closer, and a rocky friendship just might turn into much more. But is it too much for Emma, who just wanted some down time before returning home to London?
Emma and Gabe are strong main characters. They have a bit of a background, and at times I wondered if there was more to it, because Emma does not think very highly of Gabe, nor is she very nice to him in the beginning. This initially made it difficult to like Emma, but she really grew on me as I watched her grow and become her own person. Her parents and her upbringing were certainly out of the ordinary, and I really felt for Emma at times. I really liked Gabe from the start. I loved how he was with Emma and the interactions between them. The chemistry between them is definitely there from the start although they will both deny it.
Claire and Dominic are very prominent secondary characters with a strong plot of their own. They add a whole other dimension to Meet Me In Scotland as they struggle with their marriage and differing views. I like how Patience does this and makes them such an important part of the plot.
Meet Me In Scotland is small town romance in a place that, if they decide you belong, will wrap you up in love and hang on to you. It's not all roses though, and Patience does a great job of weaving in all the different dynamics of the people of Gandiegow. At times it seems almost dysfunctional, but Patience works it in such a way that it's realistic. There are a lot of things going on in Meet Me In Scotland, and a lot of secondary characters, and Patience keeps Emma and Gabe central to it all, bringing all the little pieces together.
Meet Me In Scotland is the second book in the Kilts and Quilts series, but can definitely be read as a stand alone. There is an overlap of some characters, but they are all about the present time and fit in well. Patience writes clearly and very descriptively…I could feel that cold weather biting me as I read about it!
Finding what you're looking for where you least expect it is what Meet Me In Scotland is all about, whether it is love or life in general. I'd recommend Meet Me In Scotland to romance readers who like very small town romance.
Book Info:

Published January 6th 2015 by Signet |  (Kilts and Quilts #2)
You can run from your problems, but you can't hide from love in the Scottish seaside town of Gandiegow…
When a video of her calling happily ever after "a foolish fantasy" goes viral, marriage therapist Emma Castle is out of a job—and off to Scotland. The tiny town of Gandiegow is the perfect place to ride out the media storm and to catch up with her childhood friend Claire. But also in Gandiegow is the one man she hoped never to see again.
She's successfully avoided Gabriel MacGregor since Claire and Dominic's wedding, only to find he's now the village doctor—and just as tall, dark, and devilish as ever. Claire and Dominic's blissful marriage, however, is not what it used to be. Soon Emma and Gabriel find themselves taking sides even as the sparks begin to fly between them. Can Emma help her friends—or regain her career—as she struggles with her own happily ever after?