Men Are Frogs by Saranna DeWylde: Zuri loves love and happily ever afters and all the beautiful things that come with being in love,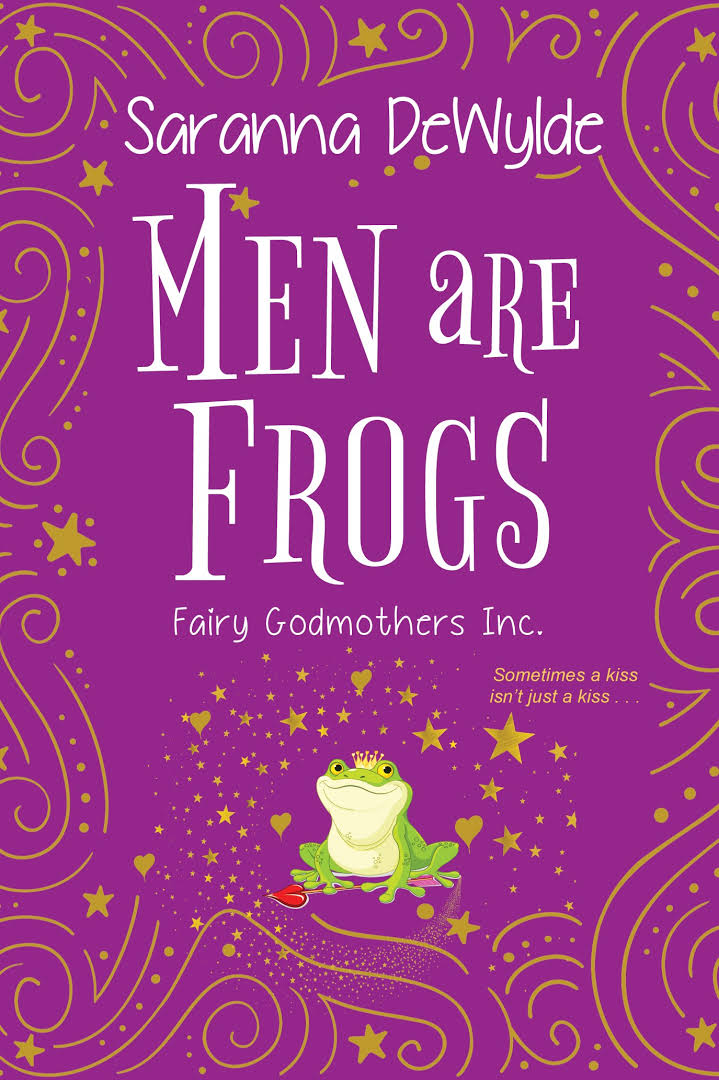 which is why she makes such a great wedding planner. However the last thing she could have ever expected was to unknowingly fall in love with one of her grooms! This is exactly where everything goes up in smoke for Zuri and her hard earned wedding planning business, after all who would want to hire a wedding planner that fell in love with one of her clients.
Feeling pretty down and out Zuri is surprised when she hears from Fairy Godmothers Inc who want to hire her as their new wedding planner. After being shunned by the rest of the wedding community Zuri finds herself heading to the cute little magical town of Ever After to try and start her life over. The last thing Zuri expected was to find just how magical this little town truly is, let alone to find her very own prince charming, fairytale castle and all!
"Oh, but Phillip Charming was dangerous. He was handsome, and silly, and . . . And if she hadn't just had her heart broken, she'd have taken him to bed. Right then, right there. She still wanted to."
Phillip Charming has done his time, after all 300 years as a frog is a long time to reflect on his bad behavior and truly he has learned his lesson and regrets hurting Petty. The only thing that can break his curse is true loves kiss, with his time fast running out Phillip has to think fast of face living the rest of his days in a pond as a green slimy frog. However for once Phillip seems to feel a real connection with the towns new comer, the question is will Zuri be able to break Phillip's curse and bring a beautiful happily ever after for both of their hearts?
"No one was perfect but that I would meet someone perfect for me. That our angels and our demons would play well together. I wouldn't have thought that. Our angels, maybe. But not our demons."
Book me the next available ticket to Ever After, please! This super cute fairytale-esque romance is exactly what my heart was longing for, Zuri and Phillip's story was the perfect heart warming second chance romance! I absolutely loved the first book in the Fairy Godmothers Inc series and was eager to get my hand on the next, and let me just tell you Men Are Frogs was just perfection.
"She was torn between wanting him to grab her, kiss her hard, and bang her like a screen door in a hurricane"
I absolutely loved Zuri, if ever there was a female lead character that wormed their way into my heart it was her. It was so easy to find myself rooting for her and hoping that she finds her own happily ever after. It was one of the cutest things getting to watch her fall in love with love again, all while in the cute little magical town of Ever After!
"He found himself for the first time imagining a future. Not just all the things he would do once he no longer had to spend his days green, but he imagined this. With Zuri."
As for our prince Charming, Philip was just a sweetheart, oh did my heart break at the prospect of him being stuck as a frog. He is exactly the prince that girls dream of, well that is after he has done his 300 years of penance and got over his big ego. I loved that he was genuinely such a great guy and an even better friend. And that he did not hold a grudge against Petty for turning him into a frog.
"Sugar is always the answer." Petunia nodded.
"If it can't be fixed with a brownie, try an ice cream soda. If that doesn't work, well, we go to the sugarcane spirits."
Bon-Bon giggled.
"That's what I'm going to call it from now on. We're consulting the spirits."
Every single character was amazing and added the perfect little sparkle to the story. It was an absolute treat getting to see the Fairy Godmothers again, oh gosh do I love these three little ladies! With their affinity for sugar and all things sweet and their dirty mouths Petty, Bluebonnet and Jonquil are the perfect meddlesome trio! I loved that all the towns people mirrored fairytale character and that they welcomed Zuri into their little family. However it was Hunter and Ravenna that truly stole my attention, gosh do these two need their own book asap!! Also how cute was the castle, with its own personality and quirks!
Men Are Frogs was an absolute delight to read and get completely lost in! DeWylde truly has a gift with bring to life a modern day twist to all the good old fairytales that we have all grown up loving, only with a bit of a grown up twist! I would highly recommend reading this cute second chance romance!
Book Info:

Publication: July 27th 2021 | Zebra | Fairy Godmothers, Inc. #2
SOMETIMES YOU'RE THE CURSE . . .
Disgraced wedding planner Zuri Davis is so relieved to be offered a job with Fairy Godmothers, Inc., she's willing to trade the high-rise excitement of Chicago for the small-town charm of Ever After. Falling for one of her grooms, even unintentionally, was enough to destroy her career–and also to prove that all men are indeed frogs. But when she meets gorgeous B&B owner Phillip Charming, who definitely lives up to his name, even she is tempted to test that theory . . .
AND SOMETIMES YOU'RE THE CURE
Three hundred years as a frog by day and himself by night, is enough to test any man's patience–even if Phillip knows he deserved Petunia's curse. It certainly taught him not to mess around when it comes to making promises. And stubborn, proud Zuri is a woman he'd like to promise his heart and everything else to–if only he weren't a sometimes-frog. Can he hope for True Love's Kiss from a woman whose trust has been so thoroughly broken?