The Flaw in His Red-Hot Revenge by Abby Green has the all traits of the Abby Green author I know and love. The emotion was hard-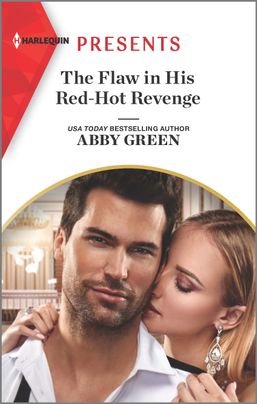 punching right in the gut! The drama was continuous and the story flowed wonderfully.
Part two of the Hot Summer Nights with a Billionaire duet is Zachary and Ashling's exciting story. Zachary is Cassie's boss who is the character from Book 1. Ashling is Cassie's best friend and she reluctantly agrees to do Cassie a huge favor while Cassie is overseas on her own adventure. A past scandal involving Zach means Ashling has avoided Zach at all costs and with no choice this time, she hopes beyond hope that he won't recognise her 4 years later. But recognise her he does; how could he forget how Ashling cost him everything at the time?
A fast paced and emotional story which I adored. Both characters have super chemistry. The banter was great and the plot had me turning the pages quickly. Both of the duet stories happen at the same time, so touches of both Cassie and Ashling's adventures are mentioned in both stories and it added to the vibe of the book. Zachary was a great Hero; he had all the requirements of a Presents Hero. Ashling was likeable and I adored the pairing.
When I finished The Flaw in His Red-Hot Revenge, I didn't want to open another book and ruin the feeling left when I closed the last page. Highly recommended!
Book Info:

Publication: August 2021 | Harlequin Presents | Hot Summer Nights with a Billionaire #2
Pleasure and payback go hand in hand in this passionate revenge romance from USA TODAY bestselling author Abby Green.
He's never forgiven her…
…and he can't resist her!
Zachary Temple hasn't forgotten Ashling Doyle's big blue eyes—or the way she almost ruined his ascent to the top of his career. But when chance brings Ashling back into his world, Zach discovers he wants something far more pleasurable than payback…
Ashling breaks all her rules by indulging in her desire for Zach. His single-minded ambition to succeed reminds her he'll have no problem walking away from their connection. Unless the feelings she's trying desperately to deny aren't as one-sided as she believes…
Read all the Hot Summer Nights with a Billionaire books:
Book 1: One Wild Night with Her Enemy by Heidi Rice
Book 2: The Flaw in His Red-Hot Revenge by Abby Green