Mess With Me by Nicole Helm: As this is the second installment in the Mile High Romance Series by Nicole Helm I am left wishing I had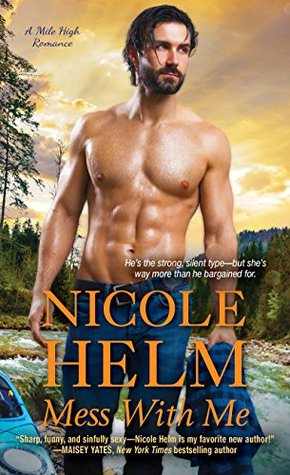 read the first book before this one. Even though others may state they are stand alone novels. I feel that I went into "Mess With Me" without the big picture of the characters. Don't get me wrong I enjoyed Sam and Hayley I just feel that I would have had a better connection to them if I had taken the chance to know them as secondary characters. I loved my journey of hiking and kayaking through the Mountains with the Mountain man. It made me feel like I was reading about a magical place.
"Mess With Me" hits home with me because Sam a is a lot like my own boyfriend an anti-social bearded wonder. Sam is brooding and angry. He seems to keep everything bottled up inside himself instead of letting his inner demons come out. Inside though Sam is a big ol' teddy bear that doesn't understand his emotions and needs. Can spending time with Haley change him from a brooding anti-social to a civilized human being?
Haley is looking for common ground to find some place that she belongs. She wants to be apart of something more than the family in which she grew up with. She has a connection to Sam's partners and he is her link to them even if she is a little intimidated by getting to know them. Will spending time with Sam help her or break her more? Can Sam show her that his partners are not cut from the same cloth as the father that raised them without getting to close to Hayley and letting some of his own demons come to surface?
Overall I felt that "Mess With Me" was a good read about family and loyalty. You have family dynamics, secrets, new found trust and friendships that will make a lasting impression. I got so much more out of this novel than I originally anticipated. If you have not read a Nicole Helm book before I suggest you grab both books in The Mile High Romance Series Today.

Book Info:

Publication: 8/29/2017 | Zebra | Mile High Romance
In Gracely, Colorado, it s all about the climb into the rugged Rocky Mountains, and over the obstacles that life has thrown in your way. With the right partner, the view from the top is grand . . .
Sam Goodall knows how to hide. And in the years since his sister s death, he s done just that, burying himself in his work at the Evans brothers Mile High Adventures as a backpacking guide. Clients don t mind his strong, silent demeanor, and he s happy to leave the rest of the world behind when he s hiking, or holed up in the off-grid cabin he calls home. But he owes his life what there is of it to the Evans boys, and when they ask for a favor, he can t refuse.
Hayley Winthrop is looking for something she s never had a true sense of family, and a purpose. Finding her half brothers was the first step discovering where she belongs in the world is the next. Could it be in the fresh air of small-town Gracely? With hunky Sam agreeing to train her as an outdoors guide, she s torn between exploring her newfound skills and getting closer to him. But chipping away at the walls around Sam could take a lifetime . . .
Sam is stuck in the past, and Hayley is looking toward her future they re a mismatched pair from the start. But the connection between them right now is too good to let go . . ."