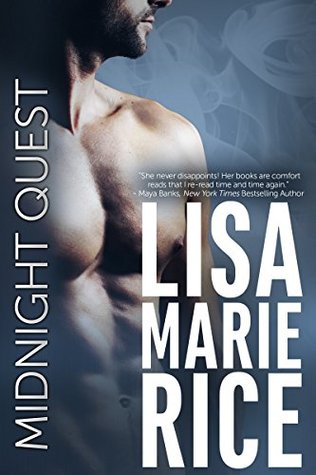 In Midnight Quest by Lisa Marie Rice, Jacko is still in disbelief that Lauren wants to be with him. Beneath the tough alpha, former Navy SEAL exterior, Jacko is insecure and doesn't feel quite worthy of a woman like Lauren. Lauren just loves Jacko. Nothing she does feeds into his belief, it's all his. When an unexpected turn of events with Lauren throws Jacko completely off, he takes off to delve into a past that haunts him – a past he's never truly escaped from in his mind. He finally realizes he needs answers to put the past to rest… The answers aren't what he expects though, and with them they bring not only answers and some peace, but an unpredicted danger that threatens not only Jacko, but the woman he loves.
I could feel the love between Jacko and Lauren in Midnight Quest, and the bond they share is strong. Strong enough, I hoped to see them through what is happening. Lauren is a mature, strong heroine. She understands Jacko and needs him in her life like she needs to breath. She understands that whatever he is doing is necessary for him, but at the same time she is worried and a little scared about what will happen. I liked the trust she has, even when she's working through those doubtful moments. Her loyalty and love for Jacko really shine through in Midnight Quest. I really liked Jacko too. I could feel for him and understand him. He's come a long way from his past with the help of some good people in his past and present. I liked that he was 'running' with a purpose, but I wasn't as keen on him just taking off on Lauren. She is so good with him though, and the contact they do have while he is gone warmed my heart. These are two mature characters, and the lack of angst when things didn't always goes as planned was so great, and made these people even more realistic.
The very unexpected plot twist that Lisa Marie Rice weaves in brings danger and more uncertainty at the same time it brings some answers. I loved how she did this!! The new characters added spice to the story, and one in particular character helped the story feel just right. The danger was real, and the situation believable. Lisa Marie Rice brings together the romance and the suspense very well. I liked how she did this, so that both plots end up being very central to the overall story line. Clear and well written, Midnight Quest has great flow to it.
In Midnight Quest Lisa involves characters from previous Men of Midnight books, and they are important to the story. The Men of Midnight are a close group, good friends and they look out for on another. I liked the adult relationships they had and the closeness. I felt like these were people I'd love to be friends with! My opinion is that Midnight Quest can be read as a stand alone, but it is so much more enjoyable if you read the whole series and get to know all of the secondary characters more personally. They are a great group of people, and this stands out strongly. It felt good to feel like I was part of this group, even if only for a little while!
I love this whole series, and Midnight Quest was no exception. I'd highly recommend Midnight Quest by Lisa Marie Rice to any romantic suspense reader.
Book Info:

April 19th 2016 | Lisa Marie Rice | A Short 'Men of Midnight' Novel
He comes from nowhere.
Jacko is not afraid of anything or anyone. He has faced down the stuff of nightmares as a Navy SEAL. Now he is facing an enemy that terrifies him—his past.
Lauren is the love of his life. But how can he be the man she deserves if his past is shrouded in mystery?
Lauren loves Jacko just as he is. She doesn't know where his quest will take him– she can only hope it will lead him back to her.
But Jacko's relentless search for the truth of his past will unleash a deadly enemy hellbent on destroying everything he loves most…