Carolyn Brown's latest Women's Fiction book, Miss Janie's Girls is bittersweet, poignant and yet very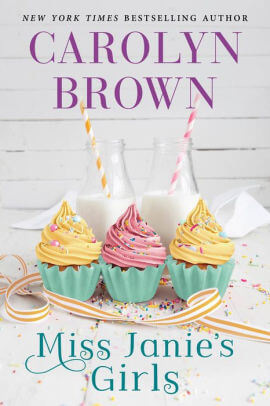 inspirational.
Miss Janie has a heart of gold, a great accomplishment given her early life with her hell and brimstone preacher father and her domineering, abusive mother. Sarah Jane Jackson made the mistake of getting pregnant when she was fifteen so to protect the reputation of the family she was sent to a maternity home for unwed mothers where she was to give birth and her child would be adopted out. She had no choice even though she wanted to keep her baby. As things turned out she gave birth to twin baby girls. She got to hold them for an hour and then they were gone. Not a life event easily gotten over. Next thing she knew she was on her way to Great-Aunt Ruthie's home in Birthright, Texas.
Miss Janie was happy to go live with Aunt Ruthie, better than going back to her dismal life with her uncaring parents. Miss Janie and Aunt Ruthie got along just fine and she followed her aunt to a school job and ended up as school secretary. That was how she got to foster the two girls abandoned by their mothers. Teresa Mendoza and Kayla Green. What a blessing they were in her life. They left her ten years ago and never got back to Birthright, Texas. But Miss Janie needs them now and is calling them home. She has Alzheimer's Disease and bone cancer and wants to be reunited with her girls before she dies. Her great-nephew Noah Jackson has been taking care of her while searching for Teresa and Kayla. She loves the three of them dearly and it is her fondest wish to have her loved ones with her.
Noah Jackson finds Teresa and Kayla and brings them home. Both young women have endured hardships and made mistakes after leaving Miss Janie but come home to care for her. Her love makes their lives better. The two foster sisters who did nothing but fight when they lived with Miss Janie as teenagers find they really can be friends and become true sisters.
Miss Janie's Girls by Carolyn Brown is an emotional read. Any time Alzheimer's Disease is involved there is bound to be sadness. Carolyn Brown weaves her tale as to make the sadness bearable because love and forgiveness is the major arc in this storyline. Teresa and Kayla do not trust men based on their past experiences. Ms. Brown leads both along the path to trust which makes all the difference in a loving, lasting relationship. This book is full of love and it made my heart happy to see Teresa and Kayla achieve happiness. I never finish a Carolyn Brown book without warmth in my heart and happiness to lift me up. Carolyn Brown's books are like coming home again and feeling on top of the world.
Book Info:

Publication: July 28th 2020 | Montlake | N/A
A bittersweet reunion becomes a time for looking back and starting over in a heartwarming new novel from New York Times bestselling author Carolyn Brown.
Miss Janie is at the end of a long and full life, but she has no intention of crossing that finish line until she's found her girls…
It's been ten years since Teresa and Kayla shook off the dust of Birthright, Texas, went their separate ways, and never looked back. Apart from their foster mom, Miss Janie, they don't have many fond memories of their hometown. Or of each other. Still, neither can forget the kind woman who opened her home and heart to two teenagers in need.
When a private investigator—who just happens to be Miss Janie's handsome nephew—tracks them both down and tells them Miss Janie is dying, Teresa and Kayla know deep down that they've got to be there for her as she had been there for them.
With Teresa and Kayla together again under the same roof, old tensions may flare, but with Miss Janie's help, they might rediscover that home is the perfect place for new beginnings.