Miss Match by Laurelin McGee: With no other job opportunities on the horizon, Andy, or Drea according to Blake,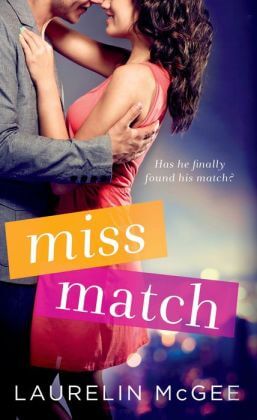 is forced to take a position as CEO Blake's personal matchmaker. With her unique people-reading skills, she can find him the perfect woman.
Only, he doesn't seem to be able to accept any of them. And with a constant barrage of just first dates, Andy and Blake get to know each other a lot better making them like each other a lot better.
Blake can't get enough of Andy and her opinionated passionate self, completely at odds with the meek, quiet, society wife he wanted. And Andy, although at first she thought he was an arrogant misogynist, now can't wait to go to work and learn more about this enigmatic CEO.
"'What the hell was that?" she demanded, as if she hadn't given her all to that amazing lip-lock. Maybe she was a better actress than he'd supposed, though. Even the best thespian couldn't fake the flush of her cheeks.

The kiss has really felt like something.

But that was impossible, because it was nothing. He'd gotten carried away, that was all. Nothing more. The adjustment he would need to make soon beneath his belt was a fluke. A reaction to the wine, perhaps. He was normally more of a scotch man."
Miss Match, specifically Andy, initially turned me off. She came across as weak and annoying, but that very quickly changed. Not long into the story I fell in love with both Andy and Blake especially.
Blake was the high point of the story, I looked forward to any time I was in his POV. On the outside he seems cold and unlikeable, but once I was in his head he became one of the most endearing hero's I've ever read. Blake had no idea what he actually wanted, just following what he thought was expected.
Miss Match by Laurelin McGee story could very easily have turned bad and been very clichéd, but thank god it wasn't because I definitely have a new favorite CEO story. I definitely recommend this for any reader. It has the perfect mix of endearingly sweet and passionately hot as Andy and Blake get closer and closer.
Book Info:

Published: June 30, 2015 | St. Martin's Paperbacks |
Welcome to the sexy, crazy, wildly unpredictable world of modern matchmaking, where fixing up strangers is part of the job—but falling in love is an occupational hazard…
He's The Perfect Catch.
Blake Donovan is tall, handsome, rich, and successful—so why would a guy like him need a matchmaker? Andrea Dawson has no idea, but a job is a job. After being blackballed from a career in marketing, Andrea agreed to use her unique profiling skills to play matchmaker out of pure desperation. But when she meets her highly eligible—and particular—first client face to face, she wonders what she's gotten herself into…
Is She His Perfect Match?
Blake knows exactly the kind of woman he's looking for—and it's the total opposite of Andrea. Though smart and undeniably sexy, she is simply too headstrong for a man who's used to being in charge. Still, Blake's blood pressure rises whenever she's near him. How can he explain the smoldering attraction that sizzles between them? And how can Andrea deny she's feeling it, too? Maybe, just maybe, they've finally met their match…