Twice in a Blue Moon by Laura Drake: Second chances don't come around often in this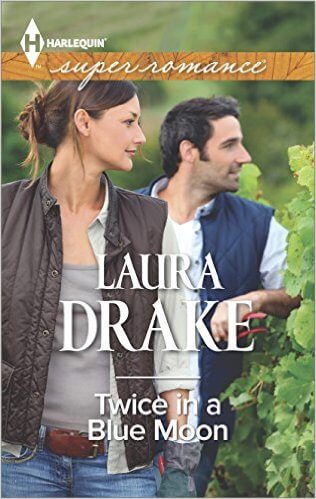 lifetime, let alone third and fourth ones. When a chance comes up though maybe you should close your head and open your heart.
Indigo Blue thought she wanted a different life, then when she got what she wanted she was devastated when she lost it all. When her husband died, she took almost nothing from the estate, exactly the way she wanted it. Then she left her former life and went off to the one thing she did inherit, a winery, to make a go of a new life there.
Danovan DiCarlo was very much a man's man. He was going to take your problems and fix them, even when you didn't ask him to. The only thing was when he started to have his own problems he wasn't sure what to do, why wasn't all his history standing up for it's self? At a complete loss he takes a chance on a rebuilding winery and a chance on rebuilding himself.
With two people so destroyed by their pasts how could there possibly be a chance for a future? Would they realize that they needed each other to help heal themselves?
Twice in a Blue Moon was an interesting read from Ms. Drake. It definitely lays with the sweet dramatic romance. Ms. Drake does do something special with this novel though. It was amazing how she was able to draw in the reader with her characters. She has a special talent to make you really feel for people you don't even want to. While it does have some lull points it is such a wonderful romance that can make your heart burst as we are shown the evolution of a strong wonderful woman.
Book Info:

Publication: July 7th 2015 | Harlequin Superromance |
Wanted: one master winemaker
Indigo Blue is starting over, again. Following the death of her husband, she's rebuilding her life around her only inheritance—a California winery. There's just one problem: she doesn't know a thing about wine. Enter brooding vintner Danovan DiCarlo.
Eager to put his own painful past behind him, Danovan is the perfect partner. And not just in business. As they work side by side, Indigo can feel more than the vineyard coming back to life. Falling for Danovan is a scary prospect. But how do you say no when you find love twice in a blue moon?