Molly's Mr. Wrong by Jeannie Watt: Molly's childhood including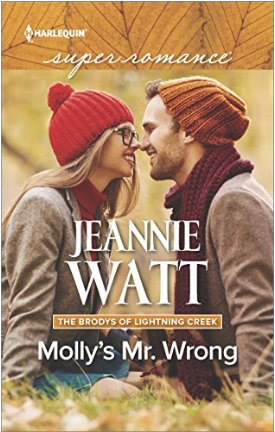 moving every few years, so now that she's trying to put the pieces back together after a bad relationship, she turns to the one town she most felt at home. Her goal is to have a more stable life and work towards tenure at the local community college.
Finn is dissatisfied with life. Since returning home after some time in the military, he wants more than running the family-owned store. He's trying to adjust to how his hometown and the family store have changed in his absence. Finn never saw himself as reaching the pinnacle of life in his glory days as a high school jock, so he's trying to go back to school so he can have a job he's passionate about.
Molly is not prepared when she runs into Finn again for the first (or second) time. She remembers all too clearly how he embarrassed her after a disastrous homecoming date back in high school and she's horrified to find out that she's still attracted to the sexy jock. Now he's one of her students.
"Come on, Finn. I don't have all that much to feel guilty about." He raised an eyebrow and she said, "I feel bad, but I was doing my job. I'm not losing sleep."
"We're in the same boat."
Now it was her turn to frown. "Meaning…?" "I feel the need to soothe my conscience, too."
Despite their past, Molly is determined to help Finn in her class while also trying to keep her distance. Finn is smart, loyal, caring, and generous, but he's also proud. It's quite an adjustment to find out that he may have a learning disability. They do get to know each other over the course of the semester and have a chance to correct their misperceptions while dealing with their inconvenient attraction.
"I was an angel."
She smiled at his deadpan reply. "Then someone was spreading a lot of lies about you."
"I was a victim of circumstances."
"You were a hellion."
"Whom you apparently admired."
Molly's Mr. Wrong is a sweet and charming second chance romance. Jeannie Watt provided good banter and chemistry between two characters who are total opposites. Ms. Watt provided interesting secondary characters in their respective families. Fans of Kimberly Lang and LuAnn McLane will enjoy Molly's Mr. Wrong.
Book Info:

Publication: Expected publication: January 1st 2017 | Harlequin Superromance |
They're both learning from scratch
Molly Adamson has moved back to the place that made her happiest: Eagle Valley, Montana. Teaching college English classes is also a fresh start…even if he's one of her students. Finn Culver. Athlete, heartthrob, homecoming date. After that disastrous night all those years ago, Molly never wanted to see Finn, now a handsome military veteran, again. But as she gets to know him through his writing, helping him conquer an undiagnosed learning disability, Molly sees much more than the swaggering charmer. Both teacher and student will learn a lot about love, and each other, if they can let the past go…