In The CEO's Seduction (Hamilton Family #1) by Diane Alberts,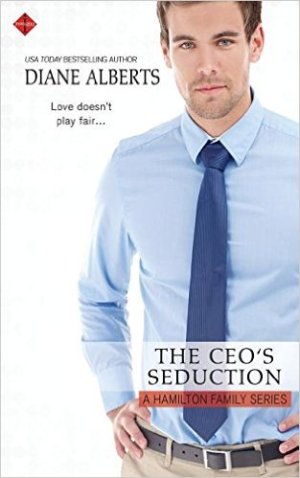 Brett Ross never thought he'd ever set foot back in his hometown again, but with his best friend getting married, there's no way he could miss the big event after accepting the job of best man. Fortunately, Anna Hamilton, his best friend's little sister makes the trip worthwhile, and soon he finds himself chasing the one thing he swore he'd never want – a relationship. Can he convince Anna that's she always been the one woman in his life he can't live without?
"I'll be honest. Sometimes I'm scared of what you might see when you look at me, because you never see what everyone else sees."
"I see you." Her eyes were all wide, and her lips were parted. "The real you, not the one you want everyone to see. And you're lonely, even if you won't admit it."
What a fantastic start to a new series this book was for Ms. Alberts, which encompassed the brother's best friend trope, two incredible characters that are made for each other and a wonderful array of secondary characters that are determined to warn Anna away from Brett because they think they're protecting her from heartbreak. The way this story started had me feeling sorry for the hero, because being back in his hometown doesn't bring back very many happy memories. How is he supposed to be there when all he can think about is how hard it was living with two people that didn't want him?
The dialogue was intense due to the main characters back stories, especially that of the hero. If it wasn't for the Hamilton family, then he wouldn't have any happy memories of his hometown. Anna, in particular, the hero has always had a soft spot for, because she's always been so perceptive. Always been the one person to realize things that he's tried to hide about his life. Can she show him that happy ever after is something he deserves? Can she convince him that promises are made to be broken, especially when breaking his promise can make him happy?
"Last time I checked, I wasn't a prisoner. Or a child." She brushed past him. "Brett is a good guy. Why are you so against him being close to me?"
Wyatt flexed his jaw. "He'll use you and leave you. He'll break your heart. He's the rabbit hole – and you're Alice."
"Sometimes we need to fall down into the rabbit hole and see what's there. Experience Wonderland for ourselves."
Wyatt clenched his jaw. "Even if it's only going to get you a broken heart?"
"Sometimes hearts need to be broken. If I decide to risk my heart, then you need to let me," she said softly. "It's my decision."
Anna was a very enjoyable character, and I loved how determined she was to go after something she wanted, even if Brett left her heartbroken. He's always been someone that she could see herself with, and there's no way she's walking away from him without at least trying to get him to see how good they could be together. She's also strong and brave in the face of rejection, so much so that it was hard not to be affected by the heroine's emotions and reactions, knowing that Brett would fight the fact that she's his best friend's sister and that he doesn't believe happy ever after is for him.
While the hero, it was hard not to like him, even though he comes off as a real jerk at rare intervals when he's trying to make Anna realize that there can't be anything more between them than friendship. However, once he starts to see that it's useless in denying himself the one woman he's always cared about more than a friend, he becomes even more likeable. Also, he's confident, hard-working and has proven what he's capable of when it comes to business. However, what I liked most about the hero is how he handles what happens between him and Anna's brothers. It proves just how much he wants their relationship to work and how much he wants the heroine.
"I liked you 'scrawny,'" she said softly. "But I like you now, too."
"I know." He shifted on his feet. "And for the life of me, I can't figure out why."
She canted her head. "Because you're you. You make me laugh and don't treat me like I can't think for myself. You bring out a side of me I like. And more importantly, you're the most caring, kind man I've ever met."
Overall, Ms. Alberts has penned a novel definitely worth reading, which encompassed hot sex scenes that illustrate how perfect these two are for each other. The way this story ended was delightful, as Brett proved how much he loves Anna by facing his best friend to make her brother understand how much he wants the heroine. Furthermore, the epilogue wrapped this story up nicely, because as a reader I discovered how much Brett and Anna's relationship had progressed and how happy they were. Certainly, they love to embarrass her brothers with their displays of affection. I would recommend The CEO's Seduction by Diane Alberts, if you enjoy the brother's best friend trope.

Book Info:

Publication: December 12th, 2016 | Entangled Indulgence | Hamilton Family #1
The last thing Brett Ross wants is to be back in the same old damn small town he grew up in, but his best friend is getting married, so there's no way he's skipping yet another visit back home. He knows what he's getting into, coming back here, but the one thing he didn't count on was the way Anna Hamilton made him feel the first time he sets eyes on her…and she's all grown up.
Anna's always been in love with Brett, even if she's always been his best friend's annoying little sister to him. But when he looks at her, she doesn't see annoyance in his eyes anymore. If anything, she sees a silent calling for her to save him from himself…and she's just the girl to do it. All she needs is to find a way to escape her pesky, protective older brothers…
And then the game is on.