Tempting Donovan Ford by Jennifer McKenzie: Julia Laurent hadn't planned on living in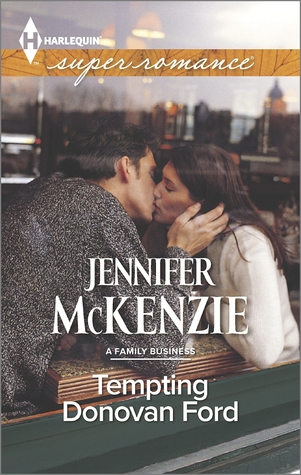 Vancouver. She was happy working in Paris until her mom got sick. Julia immediately moved to Vancouver and stepped into her mother's place at the restaurant, La Petite Bouchée. Now that Suzanne has passed, Julia dreams of owning the restaurant. Julia is a fantastic chef, devoted to the restaurant, treats her staff well, and is able to handle any crisis. Julia is aware of her own worth as a chef and she isn't afraid to push Donovan for the contract that she wants.
Donovan pushed the papers back toward her. "Then I think you should read over our offer. It's a standard term of employment."
"I'm not signing." She leaned back in her chair. "And I'm not a standard anything." She raised a dark eyebrow at him as though daring to disagree.
Donovan Ford is the now running the family business and he's not thrilled to acquire La Petite Bouchée, but his dad insisted on the purchase. Donovan wants to start up his own restaurant and not throw money into revitalizing a once great restaurant. As the older and more responsible brother, Donovan wants to maintain control over the business.
When Julia and Donovan meet, they are both very much set on a particular course. They have very distinct ideas for their future, but their mutual attraction makes them wonder what could be. Julia and Donovan need to work together to re-launch the restaurant, along with Donovan's siblings.
"Oh, good." Mal pushed her way inside, nodding at both of them. "You're still here. What did I miss?"
Seriously? Again? He was going to get his entire family bells that they had to wear around their necks like cats so he could hear them coming and make necessary plans to prevent them from barging in when he was just about to connect with Julia.
Julia is understandably hesitant to get involved with Donovan since he is her boss. Thankfully, Julia's best friend and sous chef steps in convinces Julia to act on that attraction.
"He invited me for champagne."
"And you declined?" When Julia nodded, Sasha released a long-suffering sigh. "Fine. I guess I'll have to take one for the team and go in your stead. Hair up or down?"
"You're not going." Julia knew Sasha was only teasing and yet she felt irritated, edgy, thinking of Sasha-or any woman-drinking champagne with Donovan.
"Then you are."
Julia didn't answer right away. She should have. Sasha leaped on the opening like a starving person at an all-you-can-eat buffet. "Excellent. It's decided. You'll go have champagne with the hottie and I'll pretend not to notice when you don't come back to the hotel tonight."
Donovan's family plays a big role in their relationship as well. Donovan is part of a fairly tight-knit family, while Julia is on her own. Julia craves that love and acceptance that Donovan has. As plans change, their relationship is tested. Donovan and Julia need to evaluate what they really want and if they are willing to compromise.
I really enjoyed Tempting Donovan Ford! Ms. McKenzie created interesting characters. I particularly enjoyed Donovan's siblings, Mallory and Owen, and I'm looking forward to reading Owen's story!
Book Info:

Publication: January 6th 2015 by Harlequin Super Romance Series #1969
Chef Julia Laurent has poured everything into her late mother's restaurant. When the time is right, she'll buy it herself. Before she can, though, the Ford family swoops in and acquires it out from under her! Suddenly Julia has a new boss;the sexy and intriguing Donovan Ford.
Donovan and his family are legends in the restaurant business, so Julia will go along with his plans;for now. The chemistry between them is undeniable, but Julia remains focused on her goal of owning this place. Donovan has the power to help her;Julia simply has to convince him that he wants to.