Montana Wedding by Cari Lynn Webb is the fifth book in the Harlequin series, The Blackwell Sisters. I enjoyed the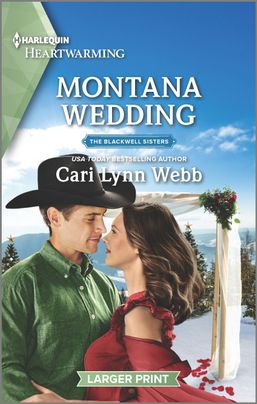 buildup to Georgie and Zach's eventual true relationship.
Dr. Georgie Harrison raced across the Chicago airport and just made her flight, the last passenger to board the plane. She was on her way to Falcon Creek, Montana for her sister's wedding. Georgie has everything all planned out. Her colleague from her research lab, Colin Townsend who will be accompanying her to their new research positions at a lab in London has agreed to be her fake boyfriend at the wedding. She has spent the last month prepping him to appear to be her genuine boyfriend. Pretending to be happy in a relationship should calm her family's fears about her moving to London. But, wait! Where is Colin? He's not in his assigned seat next to hers or anywhere else on the plane. He's not coming. What will she do now? She has no choice but to take her aisle seat and fasten her seatbelt. The guy in the window seat is a down-home-looking cowboy and turns out to be a chatty one. Following their conversation during the flight Georgie considers asking him to be her fake boyfriend. No, she can't do that. But that's exactly what ends up happening. Will the two of them by able to pull off this charade?
Zach Evans is one of the top ten calf roping and bronc riders on the rodeo circuit. It's a lonely life but a decent one. His career may end sooner rather than later though if he can't get top veterinarian Ethan Blackwell to treat his ailing horse Rain Dancer. Ethan Blackwell never responded to Zach's phone calls or emails and Zach is desperate so he is attempting to appeal to the vet in person. He will lose his beloved Rain Dancer if Ethan Blackwell refuses to treat him. How fortunate that he has ended up seated by a Blackwell relative, one who needs a fake date for her sister's wedding. Maybe they could help each other out. He could be Georgie's fake boyfriend for a week. That will give him access to Ethan Blackwell. What he didn't expect was that he would end up falling for Georgie. But she plans to move to London. They could never make anything work out. Or could they?
They were both amazed at their instant trust and feeling of comfort in each other's presence. This has been an excellent series. In this finale the reader gets to see all the Harrisons and Blackwells together for Lily Harrison's wedding to Conner Hannah. Plus the mystery that was introduced in the first book in the series is solved. This book can be read as a standalone but I would recommend all five books in the series.
Book Info:
Margie Hager| 5 Stars | HJ Recommends | No |
Publication: December 1st 2020 | Harlequin Heartwarming | The Blackwell Sisters Book 5
Can a fake date
Become the real deal?
Triplet Georgie Harrison will do anything to keep her family—including her newfound Blackwell relatives—from worrying about her. Which is exactly why she's enlisted way-too-charming rodeo cowboy Zach Evans to be her fake boyfriend for her sister's Montana ranch wedding. The problem is that Georgie's not just tempted to fall for her own ruse…she's also falling hard for the roguish cowboy she can never have.
USA TODAY BESTSELLING AUTHOR
The Blackwell Sisters
Book 1: Montana Welcome by Melinda Curtis
Book 2: Montana Wishes by Amy Vastine
Book 3: Montana Dreams by Anna J. Stewart
Book 4: Montana Match by Carol Ross
Book 5: Montana Wedding by Cari Lynn Webb