Author Carolyn Brown introduces the tough subject of dealing with delinquent teens in The Daydream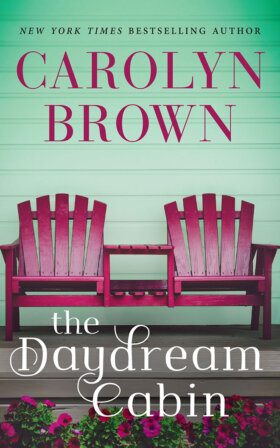 Cabin. She posits that tough love is a valid approach to such a difficult issue.
Troubled teens experience discipline and hard work at Piney Woods Academy, but they experience love and understanding there as well.
Jayden Bennett is still grieving the death of her mother. She is also struggling to understand why her mother gave power of attorney to her sister Skylar, as well as leaving Skylar their childhood home in her will. Jayden's mom had been in a coma due to a brain aneurysm and Skylar made the call to pull the plug. Then Skylar sold their childhood home without allowing Jayden to choose any mementos or giving her the chance to buy the house from her. Needless to say Jayden wasn't very close with Skylar. Skylar always put Jayden down and belittled her. Now here Jayden is at Piney Woods Academy roughing it with limited amenities for eight weeks acting as a counselor doing Skylar a favor filling in for her while Skylar is off to touring Europe with her church group.
Piney Woods Academy is a private school where wealthy parents send their teenage daughters who got in trouble with the law. If the girls fulfill the requirements of counseling and work at the Academy these teens can avoid being sentenced to a juvenile detention center. Jayden has been assigned to the Daydream Cabin with three teens. Tiffany has bulimia and has committed cyberbullying and shoplifting. Carmella has her third shoplifting conviction and Ashlyn has received her third DUI. Jayden has counselled others like these three girls but living with them and dealing with them 24/7 will be a challenge. Add to that the fact of the Academy's elderly owners Mary and Henry Wilson's nephew Elijah Thomas being quite attractive, the eight week session should be a breeze. NOT!
Elijah Thomas left the Air Force after the death of three of his team members. He was lost and drifting until his Uncle Henry brought him to Piney Woods Academy and put him to work. Now the Academy is his life's passion and he is looking forward to running the school when his aunt and uncle retire at the end of the year. In addition to seeing to the physical running of the working ranch he runs the physical exercise program there for the teens. He doesn't mind being referred to as a drill sergeant. His duties at the Academy help alleviate his nightmares and his thoughts that he brings death and bad times to those he holds dear. When he first meets Jayden Bennett he is surprised that he is attracted to her but he must maintain a professional relationship with her. That doesn't stop him from falling for her though.
Both Jayden and Elijah are caring people who are dedicated to helping these troubled teenagers. I liked how Jayden found that by helping the girls at Piney Woods Academy she realized she could address some of her own issues. I also really liked Elijah's sense of humor. Once again Carolyn Brown has treated me to an emotionally satisfying experience which made me believe wholeheartedly in the power of love. Be prepared to experience sadness, joy, love, understanding and the satisfaction of a job well-done.
Book Info:

Publication: December 8th 2020 | Montlake |
A headstrong woman discovers it's never too late for change in New York Times bestselling author Carolyn Brown's spirited novel about lost hope and second chances.
Substitute counselor for wayward teens isn't how public-school teacher Jayden Bennett planned to spend her summer vacation. However reluctant, she's hiking up her jeans and heading for remote Piney Wood Academy in north Texas. Two months. Seven days a week. Few amenities. And three troubled girls daring Jayden to make a difference. She understands what she's up against. She has her own burdens to bear.
Jayden's not in it alone. The devoted elderly couple who run Piney Wood trusts in Jayden's tough-love approach to get the job done. So does drill instructor Elijah Thomas, whose hardened boot-camp hide conceals a heart broken one too many times. Jayden is making it beat again. For both of them, falling in love is a risk. Because all summers must come to an end.
But with each new sunrise on these rustic acres, Jayden discovers that Piney Wood is a last chance for her, too. And with so many lives in turnaround, a new beginning for everyone could be a dream come true.