Montana Welcome by Melinda Curtis is the first book in Harlequin's Blackwell Sisters series and a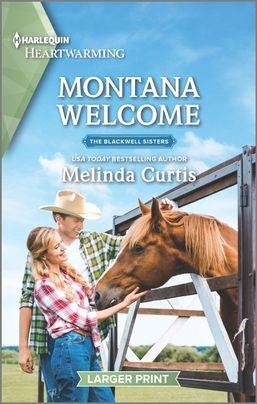 Fantastic kickoff to a new series!
Lily Harrison is a runaway bride. Just in the nick of time her, until now, unknown grandfather Elias "Big E" Blackwell sweeps into the church shortly before her wedding ceremony and gives Lily an escape route. Lily recently discovered that Rudy Harrison isn't actually her birth father. The name on her birth certificate is Thomas Blackwell. Lily was to marry her lifelong friend Danny who was the daredevil who always got her in trouble. It was Danny who had the crazy idea when Lily was just turning eight-years-old to fly their cardboard box "rocket ship" off the roof of the shed in the Harrison yard. Obviously that didn't go well and it was Lily who suffered the consequences and is living with impaired fine motor skills due to a head injury.
At the church Lily heard Danny say that he didn't want to marry Lily but Lily's stepfather insisted. Lily's second thoughts flashed and her cold feet went frozen when she overheard their conversation. That was why she agreed to run off in Big E's travel trailer on her way to the Blackwell Ranch in Falcon Crest, Montana with cowboy Conner Hannah. Together they rode off into the sunset, so to speak. And that's how Lily met Conner and their relationship began.
Conner Hannah is a cowboy who works on the Blackwell Ranch. He has his own ranch, the Rocking H, but has let it start to fall into disrepair after the accident he had training a wild Mustang horse. Conner couldn't afford to do such dangerous training since he was his disabled mother's sole support. Meeting Lily was like a burst of sunshine for Conner. He knew he shouldn't be attracted to her since he worked for Big E and his job at that time was to escort Lily to Blackwell Ranch. The heart has a way of turning off a person's good sense sometimes and his wanted to claim Lily.
I love Melinda Curtis' writing style. She always has a heartwarming storyline, characters who are realistic and makes the story very entertaining to read. Ms. Curtis outlines the conflict and drives the story to an emotionally satisfying solution. This is a story that had me smiling to the very end.
Next up in the series is one of Lily's triplet sisters, Amanda's story in Montana Wishes by Amy Vastine.
Book Info:

Publication: August 1st 2020 | Harlequin Heartwarming | The Blackwell Sisters Book 1
A bride on the run
And a cowboy to show her the way home…
Lily Harrison's wedding day isn't quite what she imagined. Not only does her fiancé not love her, she's just discovered she's a Blackwell—a member of Montana's well-known ranching family. Now Lily's ditched her own wedding for a road trip with handsome cowboy Conner Hannah. But will Lily find her answers in Montana…or lose the cowboy she's already begun falling for?
USA TODAY Bestselling Author