Star Bright by Staci Hart: Who is Cecilia Beaton? That is the question on everyone's lips, who is this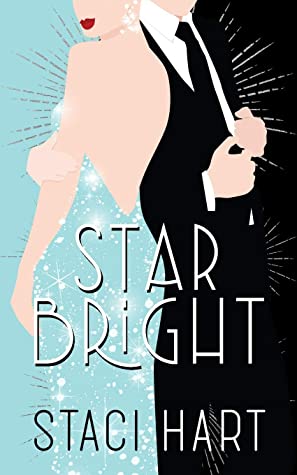 person that is known to throw the most extravagant, elite over the top parties? And how does one get themselves an invite to join the elite Bright Young Things group? Well that is what Levi Hunt is out to uncover, so when his editor gives him the chance of a life time to cover a story in Syria all he has to do is first go undercover at the Bright Young Things party, Levi doesn't think twice about agreeing to go undercover at these exclusive parties to uncover what exactly the rich are up to and who is the mysterious party planner extraordinaire. After calling in a few favours Levi manages to worm his way into one of the parties, already set with his own predisposed idea of how wasteful and frivolous these parties really are, what he was not expecting was to get drawn in by the beautiful Stella Spencer.
"I'd spotted him, his eyes had been trained on me, his gaze locking me down like shackles. Hot, steamy shackles that did something tingly to my nethers. Poor, neglected nethers that tingled just at the memory."
Not everything that glitters is gold, if anyone knows this it is Stella. Especially for those that can have everything they desire, wanting to giving her people a place where they can feel like they belong and just add a little sparkle to the world, Stella takes on the role of infamous Cecilia Beaton. After having her heart broken by long time friends with benefits, Stella needs to get herself out of this funk and dip her toe in the dating pool. So when her friends suggest that she have a one night stand, Stella is entirely sold on the idea. But when she see new comer Levi Hunt, she decides to go for it, after all he is leaving on assignment soon.
"I wanted to keep him and that was the most dangerous thought of all."
With things between her and Levi heat up to scorching levels, Stella finds herself floating in her own blissed out bubble of happiness, that is until the group is shaken when an article about one of their parties goes viral. With a mole amongst them and the ever annoying police commissioner trying to shut them down, the Bright Young Things rally to find out who is the imposter. However when it is revealed that the traitor has been closer than she realised how will Stella get over this betrayal?
"Because my life has never been so bright as it's been since you."
Hart has managed to transport us to a world of glitz, glamour and drama. I loved every bit of this Gossip Girl meets The Great Gatsby modern day romance. The thing that really got me hooked was that this was not just your average romance, Hart has added a layer of mystery and drama to the novel. I liked this fresh take on how the other half live and that we see that what we see is not always what they are going through. I loved that Stella wanted to create a family and safe place for this bunch misunderstood people.
"Have you ever felt alone in the world? Like you don't belong anywhere? To anyone?" Something flashed behind his eyes, a certain sadness or regret. "I have." "So have we. So has everyone. These parties are proof positive that we have a place to belong and people to belong to."
I have to say I loved the chemistry between Stella and Levi, from their very first meeting, you could feel their pull to each other. This couple really gives you hope for a happy ending, I loved that neither gave up their dream just so that they could be together, instead they meet half way and made their relationship work. Though I will say that I loved the way Levi handled the last article and the reveal of who is Cecilia Beaton. In fact this was my favorite part of the entire book, that everyone is Cecilia, we bring our own brightness to the world.
The backdrop of this novel was just something else coupled with the Harts brilliant writing style I felt like I was right there with the Bright Young Things for the entire journey. I highly recommend all of you read Star Bright and join the Bright Young Things on their extravagant adventures.

Book Info:

Publication: July 14th 2020 | Staci Hart | Bright Young Things #1
Stella Spencer has one enemy—her secrets.
The world's obsession with the Bright Young Things is real. Every lavish party thrown by the most exclusive group in New York is a spectacle, stalked not only by the media, but by the police commissioner, who's declared war. He's out to ruin everyone's good time, starting with uncovering the mysterious benefactor leading the group, thus answering the question on everyone's lips.
Who is Cecelia Beaton?
And no one knows it's Stella.
If society finds out the truth, her plans will unravel. And with one smoldering look from a stranger, her carefully ordered world catches fire.
Levi Hunt has one plan—get the story.
His future at Vagabond magazine depends on his ability to do the one thing no one can: infiltrate the Bright Young Things. If he can find out who Cecelia Beaton is, he'll earn enough notoriety to permanently secure his career.
His dreams are at his fingertips, so long as he doesn't blow his cover. But one night with the brightest, most brilliant young thing of all, and he knows he'll have to make a choice.
The job he loves or the woman of his dreams.
Secrets and lies. Love and laughter. And two people with something to hide and everything to gain.
Welcome to the party.