Montana Wishes by Amy Vastine is the second book in the Blackwell Sisters series. I read it as a stand-alone,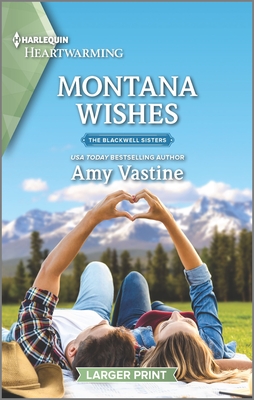 but I think that if I'd have read the first book it would have been better because it set the background for the series. There are five books in the series and each book is written by a different author which always makes a series interesting. This book was fast-paced and a perfect friendship to lover romance.
Amanda Harrison had just discovered Rudy Harrison, the man she thought was her father, was actually her adopted father. She was hurt and confused as to why her mother and father had never told them the truth. She felt her loyalty should be towards Rudy and not the Blackwells. When her sister goes to Montana to meet the Blackwell family and announces she is getting married to a man she just met, Amanda gets worried. She felt like she needed to help Lily from making a mistake and resolves to stop her sister's marriage. When her best friend Blake Collins announces he got engaged, Amanda's day got worse. They had been friends forever and Amanda was secretly in love with Blake.
Blake Collins had loved Amanda forever, but she always kept them in the friend zone. He was an only child and he cherished his childhood memories with the Harrison family. His dream was to get married and have a large family, but he couldn't seem to get past Amanda's boundaries. Eventually, he gave up and proposed to Nadia, the woman he had been dating for two months. When Amanda decides to drive to Montana to save her sister, Blake does not hesitate and goes with. Tension was in the air when Nadia flew into Montana to surprise Blake. Blake and Amanda begin to realize that their relationship will have to change once Blake gets married.
The was a clean friend to lover romance that grabbed my attention in the first chapter. I enjoyed seeing Amanda and Blake finally get past all their obstacles and admit their love for each other. They were perfect for each other.

Book Info:

Publication: September 8th 2020 | Harlequin Heartwarming | The Blackwell Sisters #2
Caught between friendship
and falling in love…
Amanda Harrison's life is changing way too fast. Discovering that she's really one of the Montana Blackwells was hard enough. Now Blake Collins—her best friend and the guy Amanda's secretly in love with—is engaged to someone else. But Montana cowboy country has a way of claiming its own. And being a Blackwell means Amanda must learn how to fight for herself…and for the love she deserves.