Well Played by Jen DeLuca is the delightful second story in her Well Met series. The first in the series, also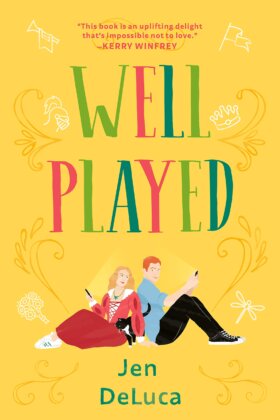 called Well Met, has a well deserved place on my best of 2019 list, so I have been eagerly awaiting this sequel. It's another enjoyable romantic comedy that cements this author's place on my auto-buy list.
Stacey has been involved with the local Renaissance Faire since she was a teenager and it's an important part of her life. But she's fully aware that other life milestones seem to be passing her by. With the engagement of her friends Emily and Simon (who got together in Well Met), she finds herself a little bit lonely (phone calls from her mom who lives literally next door since she rents an apartment above her parent's garage) don't count. Her day job as a dental office receptionist pays the bills but isn't exciting, and her nights out involve her local core group of friends with whom she has no budding romantic attractions.
During the previous two summers of Faire she had a non-committal hookup with singing kilted heart-throb Dex Maclean. Though they don't engage in any shenanigans this summer, she finds herself messaging him on social media while slightly drunk over the winter holidays, and to her surprise Dex writes back. One message turns to another and soon they are sharing some deep and personal thoughts. Stacey is excitedly looking forward to meeting this man of more emotional depth than she'd expected when Faire returns. But when it does, she quickly discovers that in fact, it's been Dex's cousin Daniel, the band's manager and a man who has always sort of caught her eye with his quiet demeanor and friendly smile, who has been messaging her, not Dex at all. Being catfished definitely puts a damper on the start of Faire – and yet, Daniel's apology rings true and she can't forget the things they talked about. Could it be that her life is ready to take on a new direction, with a brand new man?
Well played indeed! It's understandable that Stacey feels like she's been played when she finds out that Daniel is really the one who has been messaging her. But to his credit, Daniel doesn't try to cover it up once the truth is out there, and they are able to work their way through it to a place where both of them are quite happy. There are some sweet and sexy love scenes and the connection they made while texting becomes a solid one in real life. But the truth of the matter is that Daniel travels for ten months of the year with the band and Stacey has a job and a life in Willow Creek (even if it's one she's not particularly satisfied with). Faire only lasts for 4 weeks, and then they'll have to decide whether their relationship is ready to move to another level. I enjoyed their romance and while I think Daniel sometimes was a bit too passive, their happy ending is very satisfying.
The other stars of the show are the setting of course and the secondary characters. The background of a Renaissance Faire is not one you see often and so it makes for a really fun read for those unfamiliar with the setting (and likely nostalgia for those who are, especially after this pandemic year). Emily and Simon celebrate their wedding as part of this year's Faire (very sweet) and we also get some interesting tidbits about Emily's sister April (very much NOT a Faire person) and everyone's friend Mitch who wears a kilt the right way and is the subject of many crushes.
The author writes for the reader of today, where social media is an ever present part of daily life and selfies with one's pet (cue Stacey's cat Benedick) are the norm. The epilogue does a great job of tying everything together, making Daniel and Stacey's relationship believable as it moves forward. I'm already excited for whatever comes next in the series, and hoping it's not too long a wait!
Book Info:

Publication: Sep 22, 2020 | Berkley | Well Met #2
Another laugh-out-loud romantic comedy featuring kilted musicians, Renaissance Faire tavern wenches, and an unlikely love story.
Stacey is jolted when her friends Simon and Emily get engaged. She knew she was putting her life on hold when she stayed in Willow Creek to care for her sick mother, but it's been years now, and even though Stacey loves spending her summers pouring drinks and flirting with patrons at the local Renaissance Faire, she wants more out of life. Stacey vows to have her life figured out by the time her friends get hitched at Faire next summer. Maybe she'll even find The One.
When Stacey imagined "The One," it never occurred to her that her summertime Faire fling, Dex MacLean, might fit the bill. While Dex is easy on the eyes onstage with his band The Dueling Kilts, Stacey has never felt an emotional connection with him. So when she receives a tender email from the typically monosyllabic hunk, she's not sure what to make of it.
Faire returns to Willow Creek, and Stacey comes face-to-face with the man with whom she's exchanged hundreds of online messages over the past nine months. To Stacey's shock, it isn't Dex—she's been falling in love with a man she barely knows.