More Than Anything by Natasha Anders: Tina is smart, fiery, loyal, and determined to prove her family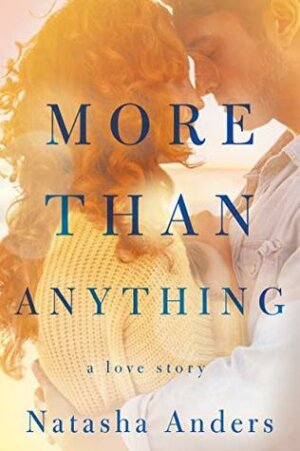 wrong. She's always felt like an outcast as the only daughter and due to her curvy figure. Harris is sexy, successful, and charming. He's also one of her older brother's best friends. Their families are friendly and they go to all the same events and parties.
As a teen, Tina fell for Harris. She never imagined that he could return her feelings, until one night all her dreams seemingly came true. The mostly dream night came crashing down rather quickly and her life fell apart after that. She's struggled to deal with that night and the aftermath as she's retreated within herself. She's not passionate about anything and her string of unsuccessful starts to a career is proof of that.
Harris would love nothing more than to finally move on from their night turned wrong. He's persistent in his desire to just talk to her and repeatedly asks her out. Harris sees her for the sexy, yet vulnerable woman she is.
"How long are you going to bear this unreasonable grudge against me?"
"I don't think it's unreasonable," she said beneath her breath, and he swore again before running both hands through his thick hair and sucking in an uneven breath.
"It hasn't escaped my notice that you've successfully avoided being alone with me for ten years," he pointed out in a not-quite-level voice.
Lucky for Harris, the birth of his niece is just the excuse he needed to finally talk to Tina. Tina doesn't want to still be attracted to Harris given their past, but she can't entirely resist him. He's kind, patient, generous, and supports her. Tina is making changes in her life and expanding her horizons. She's learning to go after what she wants, which could include Harris despite the secrets she keeps.
"Wanna come with me? I could use some backup."
His head tilted as he watched her assessingly, as if trying to figure her out.
"Okay. But only if you join me at my obligatory parental dinner, tomorrow night."
"Deal!"
More Than Anything is heartfelt, emotional, and surprising. Natasha Anders developed the characters, relationships, and romance with care. Ms. Anders provided an interesting cast of characters in their family and friends. Fans of Jamie Beck and Terri Osburn will enjoy More Than Anything.
Book Info:

Publication: June 11th 2019 | Montlake Romance | Broken Pieces #1
Two lovers strive to trade a grim past for a bright future in this story of bittersweet yearning.
Tina Jenson belongs to the same social stratum as Harris Chapman, but he's out of her league—at least that's what she thinks before they jump in bed together. It's the perfect night, but when she overhears crude, hurtful comments the next morning, she can't get away fast enough.
Ten years later, Tina's life is a mess. That night with Harris didn't just hurt her feelings; it started a cascade of disappointment and heartbreak. Every time she bumps into Harris, her heart twists inside out. She still wants him, but she's harboring a painful secret from their night together that she's not ready to reveal.
Crossed signals, high-society whispers, and shame have kept Tina and Harris apart for years, but deep down, they're hungry for each other and eager to write their own rules. Can they let go of the past and find their way back to each other, or are the barriers between them too high and too strong?