In Waiting for Tom Hanks by Kerry Winfrey, Not many people can pinpoint when or why they became a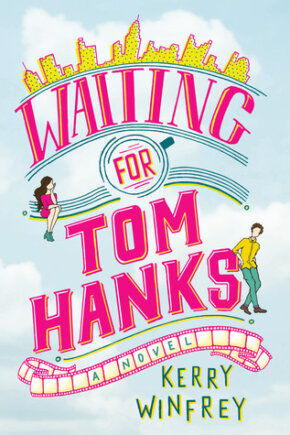 hopeless romantic, but Annie sure can. It was all thanks to not only her mother and father's fairytale courtship and marriage, but it was also the romantic comedies she watched continuously with her mother. After the loss of her dad, romcoms were a way for Annie and her mom to hang on to the belief that the perfect love is real and that everyone deserves their own happy ending. Although loss, not love, seems to be the recurring theme in her life when as a teenager, Annie unfortunately loses her beloved mother, too.
'Have you ever felt like you're not the main character in your own story?'
After that, romcoms became Annie's way of remembering the good times as well as giving her hope for the future–of meeting her own leading man, her own Tom Hanks. Okay, so maybe it isn't "Tom Hanks" specifically Annie is hoping to find. But is it so wrong to wish for her very own romantic comedy to happen in real life? Her best friend Chloe, who is decidedly *not* romantic, humors Annie, as does her clueless but awesome Uncle Don. It's when she takes a chance, going to work on a movie set filming locally that she begins to see her dream unfold. Torn between the sexy guy who's seemingly out of her league or the local handsome nice guy who is probably a safer bet, Annie is living out her own romcom. She's just not sure how it will end.
'My Tom Hanks is out there, and I'm not going to settle until I find him.'
Adorable. Waiting for Tom Hanks was an absolutely adorable, heartfelt, laugh-out-loud romantic comedy about a woman hoping for her own real life romcom after years of watching them on the big screen. Only, things definitely don't go according to her well-thought-out plans.
'I've believed in romantic comedies all this time, relying on their promise of hope and love, knowing that there was a happily ever after waiting for me.
But what if I was wrong?'
This was my first time reading Kerry Winfrey. And I have to say that while this particular book will only work for you if you are *truly* a fan of romcoms, I adored every minute of it. The humor. The offbeat characters. The heroine's somber backstory. The angst. The triumphant, super romantic ending. It all worked for me and had me cheering Annie on–even when she made some rather poor choices or when she let her dream of the perfect romance get in the way of what was right in front of her. I still believed Kerry Winfrey would make it all work out in the end. And she certainly did.
As much as this was Annie's story, it felt like the secondary characters were just as much a part of how it all turned out as our heroine was. Especially her Uncle Don and her BFF Chloe. (Chloe's book will be up next in Not Like the Movies–yay!!) I loved getting to know everyone while they were hanging out at the local coffee shop. Annie was quirky, smart, a hopeless romantic, and still dealing with the losses she suffered in her childhood and young adulthood. She had her head in the clouds a lot of the time, but Chloe, Nick, Gary and the rest of the locals kept Annie (somewhat) grounded. What a fun dynamic they all had together. And adding the crew and stars from the big budget movie being filmed locally–you guessed it, a romantic comedy!–was the perfect touch. It also led to most of the conflict and romantic adventures in Annie's life.
From our heroine's very own meet-cute to the grand gesture at the conclusion, all the plot elements were there from our favorite romantic comedy flicks, laid out on the pages for our entertainment. I, for one, had a blast reading Waiting for Tom Hanks and can't wait to dive in to the next Kerry Winfrey novel.

Book Info:

Publication: June 11th 2019 | Berkley |
Can a romcom-obssessed romantic finally experience the meet-cute she always dreamed of or will reality never compare to fiction, in this charming debut adult novel from Kerry Winfrey.
Annie is twenty-seven years old, single, and obsessed with romantic comedies (she and her mother watched them religiously, before her mom died). Her dating life is limited by the expectations she's formed from these movies. She is not as open to new experiences as she might be, because she's waiting for her Tom Hanks–i.e., a guy she'll find in the perfect, meet-cute romantic comedy way. When Annie does finally meet her perfect match, it's not quite in the way she expected, and she's forced to reckon with the walls she's built around herself over the years.