Mrs. Sommersby's Second Chance by Laurie Benson is the fourth book in the Sommersby Brides series,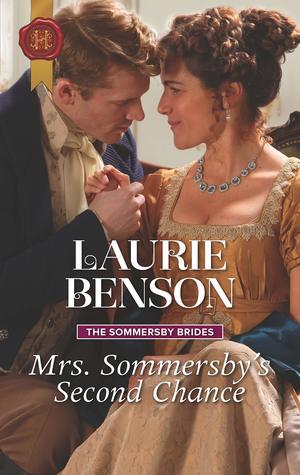 but it is a great stand-alone book. Characters from the previous books do make an appearance which lead to my interest in reading the other books.
Mrs. Clara Sommersby is a widow who secretly owns a successful hotel in Bath and she likes to play matchmaker. She has decided that Harriet, her new next-door neighbor, needs her help finding a husband. Mr. William Lane is a business man who is always looking for investment opportunities. His business partner suggest Lane go to Bath to relax, but Lane sees way for their coffee shop to expand and make more profit. His idea is to buy the hotel next door and remodel to open a spa and bathing spa.
While researching the water at the Pump Room, Lane meets Clara. Then Lane rescues Clara and her puppy, Humphrey, from a hedgerow. Humphrey was an adorable, mischievous puppy and provided lots of amusement throughout the story. Clara thinks Lane would be perfect for Harriet so she invites Lane to several entertainments so he can become acquainted with Harriet. Lane isn't interested in Harriet; he is interested in Clara who is older than him and barren. Lane doesn't see the age difference as a problem.
Will Lane and Clara be able to work together to accomplish his business ideas and have their HEA? The book was well written and paced perfectly. The first chapter catches your attention and keeps it to the end. The characters were caring, charming and so sweet. Clara's sense of humor and Humphrey antics provide plenty of amusement for the reader. It was a great book to end the series with. I am definitely going to read the rest of the series.
Book Info:

Publication: July 16th 2019 | Harlequin Historical | The Sommersby Brides #3
She's played Cupid for others
Now she's met her own unlikely match!
Widowed society matchmaker Mrs. Clara Sommersby thinks handsome, self-made businessman Mr. William Lane is just the man for her neighbor's overlooked daughter. He's successful and confident, if somewhat emotionally distant, until suddenly—shockingly—his attention turns to Clara herself! She thought her days of romance were over, but is this younger man intent on giving her a second chance?