Today it is my pleasure to Welcome author
Angie Barrett
to HJ!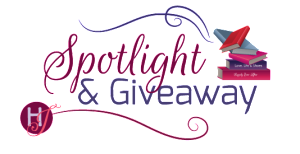 Hi Angie and welcome to HJ! We're so excited to chat with you about your new release, Love Spells and Other Disasters!

Hello! Thanks so much for having me here today.

Please summarize the book a la Twitter style for the readers here: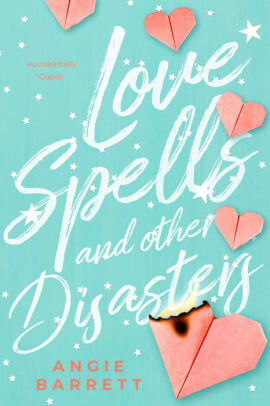 Seventeen year old Rowan Marshall didn't know when she wrote the first love spell that it would actually work but now that she does, she feels like she's making the world a better place one love connection at a time…that is until things start to go terribly wrong.

Please share the opening lines of this book:
Trust me when I say, there is nothing in the world more socially crippling than having a mother who rehabilitates ghosts for a living.

"Bye, sweetie, knock 'em dead today!" She winks at me as she hands me a twenty.

I push open the door to her precious 1959 Cadillac, a black, old-fashioned ambulance-slash-hearse that fits her ghost-friendly persona. The students walking by gawk, just like they have the last two and a half years of high school, and the eight years before that. She obviously finds it hilarious
to watch her one and only daughter die of embarrassment every single day.
Please share a few Fun facts about this book…
Many of the locations in the book are based on places I've been.
I originally wrote Rowan's mom as a relationship (sex) therapist.
Ethan's character is based on three different students that I taught years ago.
Writing the spells was one of the hardest parts for me to do.
Every time I try to make something out of origami, it looks like a waded up piece of paper.
What first attracts your Hero to the Heroine and vice versa?
Luca was interested in Rowan when he first saw her at a school dance the year before. He thought she was unique and daring with the costume she was wearing and wanted to talk to her but he was with someone else at the time. Rowan always knew who football superstar, Luca, was but she would have never thought someone like him would ever give someone like her the time of day. When he shows up at her house to do renovation work, she's blown away by how charming he is…and also how buff he looks in a tank top.

Using just 5 words, how would you describe Hero and Heroine's love affair?
Smouldering
Sweet
Perfect
Cute
Gooey.

The First Kiss…
Rowan and Luca kiss on their first date and it's incendiary. It's melt-the-snow hot. It's take-your-breath-away explosive. It's everything that Rowan imagined it would be and so much more.
Without revealing too much, what is your favorite scene in the book?
My favorite scene is when near the beginning when Rowan and Ethan are chatting in the girls' restroom.
We slide into the girls' restroom and by some miracle we're alone. He arches one of his perfectly sculpted eyebrows to acknowledge our luck, then gets to work touching up his makeup. I don't even bother looking in the mirror. What's there to look at?

At least I brushed my hair today.

I lean against the wall and try not to think about the work I'll have to do later for Mom, which means that's all I'm thinking about. I gnaw on my thumbnail. What kind of
letters are waiting for me at home this time? Will there be letters from teenagers again? Those are some of the worst.

"So, I was creeping on Malcolm last night." Ethan's lips curl wickedly. "He's been posting pictures of him and the team doing their workouts."

"Ew, athletes." All that sweat and testosterone.

He points his mascara wand at me. "One day I'm going to find a shower shot of one of those guys and you're going to want to see them in all their glory."

"Why in the world would one of them be taking pictures in the shower?" I laugh forcefully, an attempt to dislodge the sharp edges of my anxiety. I've bitten enough skin around
my nail to make myself bleed. "That's wishful thinking."

Ethan sighs. "Hell yeah, it is. Could you imagine, all those buff bodies getting soapy and wet?"

I snort as he lets himself experience a full body shiver. "Dreamland."

"Fantasyland more like it." He puts his makeup away, then turns to give me one of his looks. The kind of look that says you're not fooling me today. "Quit eating your flesh, cannibal. Why are you so stressed? Is it the test? You know you're going to ace it."

I drop my hand and pluck at the fraying edges of my sweater. "I'm not worried about the test."

"Well, I am." He grimaces before dabbing some clear gloss over his ruby-colored lips. "So what's bugging you?"

I sigh. "Mom asked me to do some 'work' tonight." I air quote the word "work."

He grimaces.
If your book was optioned for a movie, what scene would be absolutely crucial to include?
Definitely the Spring Fling dance!
The dance music is booming and thumping. The gym is decorated just as you would expect for a throwback party. Bright colors are everywhere, pink, yellow, electric blue, all looking a little like a neon-loaded cannon splattered paint bombs everywhere. There are Rubik's Cube designs and Troll dolls with gnarly looking hair everywhere. Beams of light are shooting every which way and it all looks a little chaotic.
Readers should read this book …
Readers should read this book if they love cinnamon roll, ooey-gooey, warm and melty teen romances with a little bit of magic and mayhem thrown in.
What are you currently working on? What other releases do you have planned?
My editor and I are working on a couple of proposals for a few ideas so I will (hopefully) be writing soon!
Thanks for blogging at HJ!
Giveaway:

To celebrate my new release enter for a chance to win a $10 Amazon gift card
To enter Giveaway: Please complete the Rafflecopter form and Post a comment to this Q:

Did you (do you) have a high school crush? Was there (is there) one person at your high school that you would fall all over yourself to speak to?
Excerpt from Love Spells and Other Disasters:
"I saw you walk in with Ethan and thought I'd come over and say hi."

He looks good in his jean jacket and tapered pants. His shirt is pastel yellow and partially unbuttoned. Going for the casual cool look. I like it. "Yeah." I clear my throat. "I promised him I'd come."

I want to say, I wish I'd come with you, but instead I clamp my mouth shut and hope he's not about to introduce me to some other girl he's with.

"I was hoping I'd see you here."

That surprises me. "You were?"

"Well, yeah." He rubs his hand over the back of his neck. "I wanted to see what the outfit choice would be this year."

Oh right, because last year was also extravagant when it came to what Ethan made me wear. I think back on what Luca said to me about seeing me at last year's Spring Fling, how much he liked that I was daring with my clothing choice.

"I also wanted to see you again." He laughs and it sounds a little awkward. "I've been meaning to text for a while."

Hope blooms in my chest and my heart starts beating wildly. Cool it, girl, cool it. "You have?"

"I wanted to thank you."

"For what?"

Luca taps my arm. It isn't a romantic touch but I feel the familiar jolt even with such little contact. "Hey, you think we could go outside for a minute? It's loud in here." And that's when I realize that we've been shouting at each other.

"Uh…" I look over to where Ethan is and see him dancing away with a group of his new friends. "Sure."

Luca nods, then motions toward the side door that will take us to the back field where the bleachers are. The noise falls away as soon as we're outside. It's dusk so everything is blanketed in the dying light of the day. The sun has just dropped below the horizon and the air is starting to get
chilly. Not cold exactly, but I do kind of wish I had a sweater or something. I follow Luca to the bleachers and wrap my arms around myself.

"Oh hey, you cold?" He doesn't wait for me to respond—he just takes his jacket off and wraps it around my shoulders.

I stagger a bit because his smell invades my lungs in an instant and I'm immediately reminded of how very much and very deeply I miss him. I don't know if I'll ever get over this heartbreak.

"Better?"

I stifle a shiver that has nothing to do with being cold and nod. "Yes, thank you."

He takes my hand to help me get onto the bleachers. We sit side by side, our knees angled but not touching. I so badly want him to hold my hand but keep mine on my lap. We sit there in silence for a minute and I have so many things going through my head. So many apologies. So many
questions. For all of my acts of kindness, I didn't really know how to help Luca.

"So yeah, I wanted to thank you." He chuckles a bit. "All those things you've done. Helping people, tutoring, being kind…it inspired me."
Excerpts. © Reprinted by permission. All rights reserved.


Book Info:
I didn't know when I wrote the first love spell that it would actually make things happen. Like, actually make people fall in love with each other…
How could I have known something like that? I mean, magic isn't real, right?
But here's the thing—the spell does work and so does the next one and the next one…and suddenly I'm getting a whole lot of attention from everyone at my high school. Me, Blend-into-the-Walls, Please-Let-Me-Introvert-in-Peace Rowan Marshall. And not only that, but I've also caught the attention of Luca Russo, a godlike, football-playing hottie who claims he likes me just the way I am. Ummm…
But as I'm about to learn, playing around with things you don't understand means when things go wrong—like really, very awfully wrong—you don't know how to fix them.
Book Links: Amazon | B&N | iTunes | Goodreads |


Meet the Author:
Author Angie Barrett lives in a small town in Ontario, Canada in an old century home that is also known as the "cat house" because, well, Angie likes cats. A lot. She also likes shopping for books, or for anything really, and spending time RVing in the summer with her family. She has worked for sixteen years as a high school English teacher and Librarian and is currently a Curriculum Consultant for new teachers. Angie has always dreamed of being a published author and strives to create worlds where there are strong, relatable characters who maybe are not always perfect but who understand the meaning of friendship and loyalty and who will use their collective strengths to overcome adversity.
Website | Facebook | Twitter | | Instagram |