In The Rogue King by Abigail Owen, dragon clans, fated mates, wolf shifters and a legacy passed on to four daughters captivates the reader and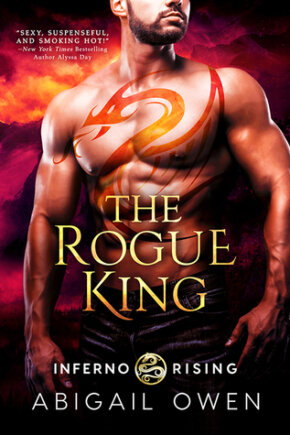 introduces a new exciting paranormal romance series, Inferno Rising.
Kasia Amon is the daughter of a Phoenix shifter, a woman increasingly plagued by migraine headaches that result in full body infernos and visions – of a dragon who could be her undoing. The dragon clans know that mating with a phoenix will result in the successful dragon becoming High King over the many clans and it's this knowledge that has kept her in hiding. But she's been found.
Brand Astarot is a rogue dragon but he's made an alliance with Ladon, the Blood King of the Blue Dragon Clan. In return for a place in the clan, he's promised to bring Kasia to Ladon. Though he has an attraction to Kasia himself, his desire for revenge for the killing of his family and a place at the Blood King's side compel him to ignore those feelings for the greater good. There's only one problem. It's Brand whom Kasia has seen in her visions. And it's Brand who calms the flames with his touch, who takes away the pain of the inferno and replaces it with pleasure. Will Brand ultimately choose duty and revenge, or love?
What an exciting start to this new series! I was hooked from the very start and it's one of those stories where you want to both speed up to find out how it ends and slow down so you don't miss anything! The worldbuilding is fully fleshed out, explaining Kasia's history and how she and her sisters have been scattered to survive. One of them has settled in with wolf shifters who play a more prominent role later in the story, aiding the dragons of Brand's adopted clan as they battle for supremacy and to keep Kasia safe. There are plenty of action packed scenes and the plot keeps the reader engaged with explanations of the clans and political alliances that fill in the world without being too technical.
And of course, there's a sexy 'forbidden' romance too! Brand and Kasia have plenty of snarky banter to make the reader laugh while drawing them closer together even as they are trying to fight the attraction between them. They aren't overly successful and share some steamy scenes even as Brand comes to the realization that Kasia is his mate and he can't give her up no matter that it will affect his future plans and the revenge he's sought his whole life. The road to their happy ending isn't easy but it is an exciting one! Since it's the start of the series there are some intriguing secondary characters and I'm looking forward to exploring more of this world. Fans of Rebecca Zanetti, Paige Tyler and Katie MacAlister's paranormal romances will want to add Abigail Owen to their reading lists!

Book Info:

Publication: July 30, 2019 | Entangled Publishing | Inferno Rising #1
Kasia Amon is a master at hiding. Who—and what—she is makes her a mark for the entire supernatural world. Especially dragon shifters. To them, she's treasure to be taken and claimed. A golden ticket to their highest throne. But she can't stop bursting into flames, and there's a sexy dragon shifter in town hunting for her…
As a rogue dragon, Brand Astarot has spent his life in the dark, shunned by his own kind, concealing his true identity. Only his dangerous reputation ensures his survival. Delivering a phoenix to the feared Blood King will bring him one step closer to the revenge he's waited centuries to take. No way is he letting the feisty beauty get away.
But when Kasia sparks a white-hot need in him that's impossible to ignore, Brand begins to form a new plan: claim her for himself…and take back his birthright.