In My One Regret by Claudia Burgoa, Kaden Hayes broke Sadie's heart when he ended their engagement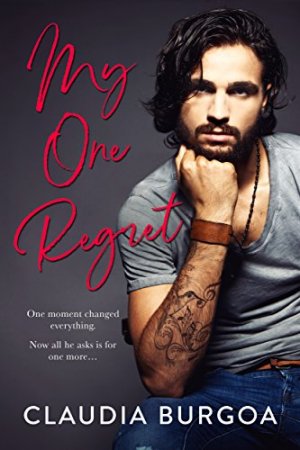 and chose to do what's right by his daughters after what happened to his teenage girl. However, when he learns that Sadie has been in an accident and might not make it, Kaden rushes to the hospital to be with her. Not knowing whether she'll make it or not, all he can do is wait and see if she'll pull through. Will Kaden be able to make things right with Sadie or will he lose her all over again?
"What else do you know, Duncan?" I look up at the ceiling waiting for an answer, or for Sadie to call me telling me that she's okay.
"Just go back to Seattle."
"You're hiding something," I growl, grabbing his tie and pulling him closer to me. "You either f***ing tell me what you know, or I can't be responsible for my actions."
"There's been an accident," Duncan says, flattening his suit once I release him. "She's in surgery, they don't know if she's going to make it."
What a beautifully-crafted, heartbreaking, fast-paced read Ms. Burgoa has penned in this story where the main characters are incredible; the dialogue was enchanting due to the main characters back stories and everything they go through to get their second chance at happy ever after; the story bounced back and forth from the past to the present, as readers discover how good Kaden and Sadie's relationship was in the past and how hard it's been for Kaden to be without Sadie in the present because they're soulmates; and the fast-paced plot drew me in from the beginning and had me reading quickly, determined to discover how much of a fight the hero was going to have on his hands to get the heroine back. Will she pull through from what's happened to her? Will Kaden get the chance to make things right?
"I never wanted to hurt her," I cry, unable to hold the pain. "Or for her to hurt herself because of me. I lover her."
"You've been good to them."
"I love them as if they were my own."
"You're the love of my life," he murmurs close to her ear. "My perfect half. But I can't put my children in danger."
Both the main characters were compelling and I loved how their relationship progressed, as the heroine didn't know whether she could get involved with a playboy rock-star. However, Kaden really surprised me with his pursuit of the heroine because he really wants to get to know Sadie and will do anything to make that happen, even if means being her friend while making innuendos to show her that he wants more than friendship when she's ready. Will she ever be ready? Will Kaden wear her down? Yet, what I liked most are the beautiful songs Kaden writes. Sadie is a great muse for him.
With the main characters, I really liked Sadie and I could understand why she was hesitant to get involved with Kaden because she watched how destructive her parent's relationship was and how it sent her mother on a downward spiral while her father keeps dating women that are far too young for him. Really, I couldn't help but feel sorry for Sadie when it came to her parents. Furthermore, the heroine is strong and brave in everything she does. She loves Kaden so much and I could understand why she makes the decision she does at the beginning, no matter how hard it was for her to do what she does.
"You don't get it, do you?" I arched an eyebrow, waiting for him to explain what I don't get. "I won't ever leave your side. Never again. I made that mistake once. I'll regret it for the rest of my life, but walking away isn't an option. Never again."
"You say that now, but I can't put myself back in that place. It was hard enough getting over you the first time. From the beginning, I knew you'd leave eventually, but I ignored my gut. This time I won't."
While Kaden, he's a good guy, a good father and I could understand why he wants to do what's right by his daughters after what happens to his teenage girl, even if it means breaking both his and Sadie's hearts. Furthermore, I really liked the hero's confident and cocky attitude and how he does everything in his power to win the heroine over in the past because he really wants a relationship with her. However, I couldn't help but sympathize with him when it comes to how far his ex-wife is willing to go to have him in her life. Will the woman finally come to understand that Kaden will never go back to her no matter how far she goes to get what she wants? Yet, what I liked most of all is that Kaden did everything he can to make certain his daughters were safe. The fight he had on his hands wasn't easy, but no way was he going to let his ex win. Certainly, not after everything he discovers.
Overall, Ms. Burgoa has delivered an utterly captivating read in this book where emotions run high; the chemistry between this couple was off-the-charts; the romance was special, hot and convincing in showing how much Kaden and Sadie love each other; and the ending had me worried for this couple's happy ever after, but left me completely satisfied and smiling because of the way things work out for the best for this couple. No way will anything come between Kaden and Sadie again. However, it was the epilogue that wrapped this story up brilliantly because this couple are so deserving of their second chance at happy ever after. I would recommend My One Regret by Claudia Burgoa, if you enjoy the second chance romance trope or books by authors Carrie Aarons, Samantha Towle, Devney Perry and Mia Sheridan.

Book Info:

Publication: May 3rd, 2018 | Self-Published – Claudia Burgoa |
When he left her, he made the biggest mistake of his life. But now she might be gone for good.
Kaden Hades couldn't handle touring with his rock band and a relationship— until he discovered Sadie, the love of his life. But when tragedy struck with his teenage daughter, Kaden broke off the engagement, swearing to put his kids first.
Then he gets the phone call. Sadie's been in a car accident.
By the time he reaches her side, she is critical.
With Sadie in a coma, memories flood Kaden's mind. Her kisses. And all the wonderful experiences they shared. The day it all went wrong…and Kaden made the biggest mistake of his life. Now, as her last line of defense against those who've given up hope, he'll move heaven and earth to protect her.
Because she's always had his heart—but if he loses her, his world will come apart.