My Royal Sin by Riley Pine is the second steamy romance in the Arrogant Heirs series, set in the fictional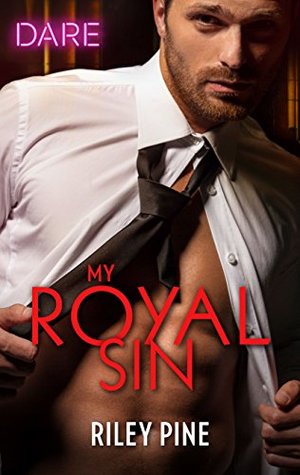 European country of Edenvale. This time it's the second son, the man destined for the Priesthood who finds himself torn between love and duty in a story with some surprising twists and turns on the way to a happy ending.
Prince Benedict is a Priest in training, a man who plans to take his vows to forever remain celibate and in the church as is the expectation of his family. He's a virgin but he knows temptation. And when Evangeline, posing as Ruby, a prostitute from a local brothel is sent on a mission to retrieve a painting from the palace, Benedict is unable to turn her away, though he doesn't know of her deception. Soon the truth comes out, as does the reality of the attraction between them and Benedict can't deny his true feelings for Evangeline. When danger encompasses them both, Benedict must make decisions that will forever alter the course of his life, and the future of his kingdom.
Fair warning, there is a lot of religious imagery in this story as Benedict takes his priestly training seriously so if romances involving steamy sex mixed with religion aren't your thing, this may not be for you. Of course, Benedict ends up not taking his priestly vows and the steamy sex he and Evangeline share comes with its fair share of guilt at first, at least for Benedict. Evangeline doesn't feel guilt over tempting the Priest-to-be as she is working on her own agenda – to help free her brother and sister-in-law who have been wrongly imprisoned. Once Benedict finds out the truth of her presence there, he makes it his mission to help her and free her from the clutches of the Madam running the brothel where Evangeline works.
The story veers into more fanciful territory with the revelation of a secret Medieval Order that is protecting the location of a hidden spring rumored to have 'fountain of youth' type properties. Who is involved in the Order and how they have passed on their existence through generations is a key part of the second half of the story, as are some action packed scenes as Benedict and Evangeline work to free her family. They get their happy ending, but leave the reader with a teaser for the next book in the series, Benedict's brother Damien's story. Lots of steamy sex, action and a rather over the top plot make this a fun read.
Book Info:

Publication: May 21, 2018 | Harlequin Dare | Arrogant Heirs #2
She's totally off-limits…
…which makes her even more irresistible!
Famed for his iron control, Prince Benedict, just weeks from joining the priesthood, is unprepared for the chemistry that ricochets through him when he meets Ruby. She is temptation personified…but she couldn't be more inappropriate for a royal fling! Except after years of choosing duty over desire his control has finally snapped—he's choosing pleasure…of the most X-rated kind. After all, if he's going to indulge in the forbidden, the higher the stakes, the greater the thrill!