In Nailed (Worked Up #2) by Cora Brent, Audrey Gordon finds herself needing to work alongside Jason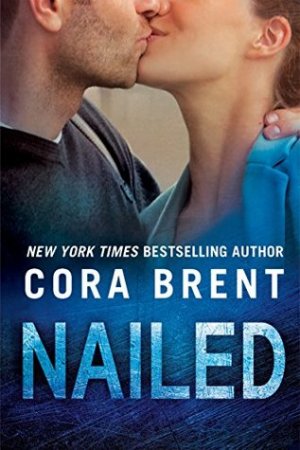 Roma for the new project they've been assigned at the Courthouse. However, with him being her ex-lover, she finds it hard to not get riled up every time he opens his mouth. But the more time they spend together working, the more Audrey finds herself succumbing to Jason's charm all over again. Will the pair finally achieve their happy ever after?
My mouth fell open. "What the hell is wrong with you?"
"Nothing at all. I'm having a great day. You should be having a great day too. We just received some exciting news."
Having been absolutely charmed by the first book of this series, I was looking forward to reading more of it, and I've got to say that this was a wonderful addition to the Worked Up series by Ms. Brent. Because it combines the enemy to lovers and second chance romance tropes, has two delightful main characters in the heroine that does her best to try to resist the hero and a hero determined to win her over; and riveting dialogue that had me enjoying the hero's charm, both the main characters back stories and the heroine's need to prove she's changed. The way this story started had me sympathizing with the heroine, as what's happened on the project site she's managing is reprehensible and I could understand why she's mad. However, it was from the moment the hero and heroine come face-to-face for the first time that had me smiling because of the hero's charming personality while at the same time had me thinking how very lucky Audrey is. Good thing Jason is a total knight in shining armor and there to rescue her.
"What?" she mimicked me. "You're blushing."
"It's hot in here."
"If you say so," Helen replied, but she was still smiling.
"I do."
"And I suppose it has nothing to do with the fact that you and a certain sexy project manager have been circling each other and panting like animals in heat." She laughed at my shocked face. "Don't look so alarmed. Some people have a sixth sense. I have a sixth sense."
Both the main characters were fantastic and I loved the heroine's back story, as she's been through so much in her life and is determined to prove she's no longer the screw-up she once was. I also liked how hard she worked, and even though she faces some trouble when it comes to her job as this story progresses, I liked that the hero was willing to stand up for her. Yet, what I liked most of all about the heroine was the close relationship she shared with her brother and that he's always been the one to help her any chance she needed it, most especially when she was acting out and spiralling out of control to get attention. While the hero, he's done well for himself since he started working for the company they both work for. Certainly, he's confident, isn't afraid to stand up for what's right and I liked how determined he was to win over the heroine since she means a great deal to him. I also liked the challenges they faced together, especially the moment when something goes awry at the Courthouse project site and they have to deal with it.
Overall, Ms. Brent has delivered another captivating read for this series where the chemistry between these two was off-the-charts; the romance was delightful and had me loving these two together; and the ending had sympathizing with the heroine's family because of what happens, but had me loving how this couple find their way back together and how the heroine finally wins over her parents. Certainly, her dad needed Audrey to speak up for herself and finally knock some sense into him. I would recommend Nailed by Cora Brent, if you enjoy second chance romances, the enemy to lovers trope or books by authors LA Casey, Jo Raven, Bella Jewel and Layla Hagen.

Book Info:

Publication: March 13th, 2018 | Montlake Romance | Worked Up #2
The good news: Audrey Gordon has just received a dream assignment managing one of the city's largest construction projects.
The bad news: She'll be teamed up with cocky office rival and former lover Jason Roma.
Audrey's got a lot to prove to herself and to her overachieving family. She's certainly not going to let arrogant Jason Roma get in the way of her success, despite the fact that he never passes up an opportunity to get under her skin. Audrey swears she'll keep Jason at arm's length no matter how fast her pulse races whenever he walks into the room.
However, Jason seems to have his own ideas about what Audrey needs. He's determined to win another chance with her and prove that he's not the callous jerk she thinks he is.
But when a personal tragedy shakes Audrey to her core, will she push Jason away forever?
Or will she learn a few lessons about love and finally let him into her heart?