In Rumor Has It (Real Love #4) by Jessica Lemmon, there's nothing worse than the new assignment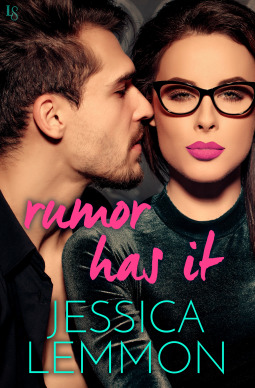 Catarina Everhart's boss has assigned her, which is to pretend date bad boy Barrett Fox and write about it. Yet, as they go on more and more dates, Catarina finds her opinion of Barrett changing and she soon finds herself falling for him. Will Barrett and Catarina realize how good they are for each other, or will their shot at happy ever after never happen?
"I thought you weren't pimping me out," I say carefully.
"You don't have to have a physical relationship with the guy." Mia leafs through her papers again and I wonder what gives with her splitting hairs. "But you do have to pretend to date him and write about it. We want our readership living vicariously through you. Think of it as an acting role."
I have loved this series from the start, but – in my opinion – this is the best book so far. It was fun, enthralling and I really enjoyed this couple's journey to happy ever after, because they start off as enemies but Barrett is determined to win Catarina over. As for the way this story started, it had me sympathizing with the heroine because she's good at her job and to be saddled with Barrett, let alone pretend dating him is something she needs to get used to since there's no way she can get out of it. Will Barrett's charm be enough to win Catarina over? However, it was from the moment the hero and heroine come face-to-face for the first time that had me totally hooked to this story, as Barrett knows just the things to say to get a rise out of the heroine.
As for the dialogue, it was a mix of intense moments due to the main characters back stories and playful banter that had me captivated by this couple's growing relationship. Really, Barrett is good for Catarina, as he finally opens her eyes to what a relationship should be all about instead of what she's had in the past. Moreover, the heroine is resilient, hard-working, loyal and I liked how determined she was to help Barrett with what he's been tasked to do in working with her. I also liked the dates these two went on, as Barrett knows how to show a girl a good time, especially since he has hidden talents that he isn't afraid to use to impress Catarina. While the hero, he's confident; cocky; struggles with what he's tasked to do, but I liked how the heroine supported him; and I liked how determined he was to win the heroine over because he's never had a woman that didn't want him. That in itself makes him cocky and confident in his pursuit, but so does the fact that he's an ex-NFL player that thinks he's irresistible. How long will Catarina be able to resist?
"I won't let you down on the column," he says.
"You're proving my point. I'm complimenting you and you're worried about my job."
"I'm not worried. I'm setting your mind at ease."
"That's very considerate."
"Now I'm considerate and kind?" He winces. "Not the best recipe for getting the girl into bed."
Overall, Ms. Lemmon has delivered an absolutely riveting read in this book where the chemistry between this couple was intense; the romance was wonderful and had me liking these two together so much; the secondary characters have me looking forward to the next book in the series; and the ending had me cheering for this couple's happy ever after, as Barrett needs to do something big to win Catarina back. Of course, what he does was delightful and had me smiling long after this story finished. I would recommend Rumor Has It by Jessica Lemmon, if you enjoy the enemy to lovers trope, the fake relationship trope, or books by authors Lauren Layne, Kristen Proby, Erin Nicholas and Jennifer Probst.
Book Info:

Publication: May 15th, 2018 | Loveswept | Real Love #4
This is one bad boy who's fit to print. A notorious jock tackles life—and love—after football with a type-A journalist in this sexy standalone from the author of Eye Candy.
Barrett: As a former pro football star, I'm used to playing the field. After injuries cut my NFL career short, my second act as a broadcaster ended on live television when a hot mic picked up a little verbal . . . indiscretion. But this latest publicity stunt might just land me back on top—much to the chagrin of Catarina Everhart, the prissy, beautiful journalist who's been assigned to date a bad boy (i.e., me) and write about it. Catarina swears I'll never touch her, let alone kiss those full lips of hers. Based on our chemistry, I'm not buying it. . . .
Catarina: Barrett Fox seems to be doing everything in his power to make me hate him. The cocky egomaniac is infamous for his bad behavior, and now, thanks to my boss's harebrained schemes, he's apparently my problem. As one fake date leads to another, I start to see a different side of Barrett. He's close with his family. He does volunteer work. And, okay, he kisses like a dream. Am I really dating Barrett Fox? Or is he playing me? Because suddenly I'm risking my reputation—and my heart.