In Nearest Thing to Heaven (Maverick Junction #2) by Lynnette Austin, Rancher Ty Rawlins was interested in Sophie London from the first moment he met her. But being a widower with triplets to keep track of doesn't leave much time or energy for him to date. Let alone to actually admit he's ready to move on after losing his wife. When Sophie comes back to Maverick Junction for her cousin's wedding, Ty can't deny the attraction between them any longer. His intentions to just date and keep things lighthearted change quickly when he falls deeply for the ethereal Chicago beauty.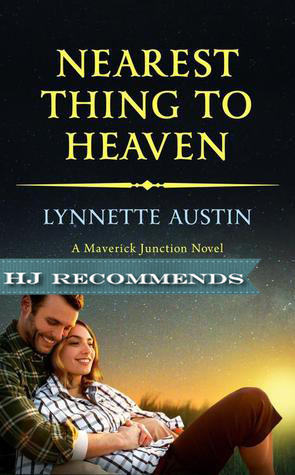 Ty becomes frustrated with Sophie when she holds her feelings in check, knowing she'll be leaving to go home soon, but he soon finds out that he may be the one with some soul-searching to do.
'He didn't want the feelings Sophie stirred in him. Never again. He couldn't do it again.'
Sophie London is a city girl through and through. She's also convinced that she's destined to be single and wishes she could find someone perfect for herself like her cousin Annelise did. Returning to Maverick Junction, Texas, for Annelise's wedding is like cultural whiplash for Sophie after being in a bustling city for so long. So why does she feel more at ease than she can ever remember? It might have something to do with a certain cowboy named Ty Rawlins and his Triple Threat triplets. Her heart goes out to them and what they've been through. The last thing Sophie wants is to hurt the four guys, but she's afraid if she admits how head over heels she is, that's exactly what will happen when it's time to head back to Chicago.
'This was Ty. A man good to the bone who would never in a million years hurt her. On purpose. But he had the power to break her heart.'
Nearest Thing to Heaven is an incredibly romantic story with a wide range of emotions. The characters will capture your heart and have you cheering them on.
"You're the nearest thing to Heaven I've ever known. You're my here and now. My future. Our future."
I wasn't really sure what to expect from Ty and Sophie's story as I haven't read book one in the Maverick Junction series yet. I am happy to say this can definitely be read as a standalone, although after finishing it, I will be checking out Somebody Like You as well! I really loved Lynnette Austin's writing style. Ty's backstory, losing his wife and raising triplets on his own, is heartbreaking to say in the least. But through the secondary characters and with the introduction of Sophie into his life, there is fun and excitement once again for Ty and his children, and the dialogue showcases that perfectly.
Secrets play a big role in the conflict between Sophie and Ty throughout the story. Without giving too much away, they both have something they are keeping to themselves and unfortunately it makes communication that much more difficult between them. I felt like because they were both very independent, strong people, they didn't want to burden each other with their issues. I'd say that it (unfortunately) is a very common problem for couples to endure.
All of the secondary characters were wonderful and seemed very realistic to a small town community such as Maverick Junction. Okay, so the fact that every single guy in town was drop dead gorgeous might be a bit much. But then again, I've never been to Texas! 😉 I must admit, though, that my favorite scenes were with Ty and his triplets. They just melted my heart with how sweet they were. Nothing like getting sappy over a big tough cowboy giving his four year olds a big hug and telling them he loves them. *sigh*
If you like your romances sweet with lots of passion, definitely check out Nearest Thing to Heaven. It has such a tender, heartfelt HEA it'll make you cry…
Book Info:

HJ Recommends
Published September 3rd 2013 by Forever Yours
Ty Rawlins, the widowed father of rambunctious triplets, is at odds with Sophie London when she returns to Maverick Junction at Thanksgiving for her cousin Annelise Montjoy's wedding to Cash Hardeman. Chicago is home, where she runs Starlight Productions, her greeting card company. Sophie is a fish out of water in Texas. The cows freak her out. The long-horned steers are nightmare material. But Ty's triplets, one of whom spilled cherry soda on her white silk lap at Cash's barbecue, are enough to make her run all the way back to Illinois in her Jimmy Choos. What will it take for Ty to convince Sophie that Maverick Junction is where she belongs, right beside him and his boys?