The Change in Di Navarra's Plan by Lynn Raye Harris: Holly's first meeting with cosmetic king Drago Di Navarra left her jobless, alone and struggling to make ends meet. Now one year later when Drago approaches her with a proposal to make her the face of his next cosmetics campaign, Holly's circumstances force her to say yes.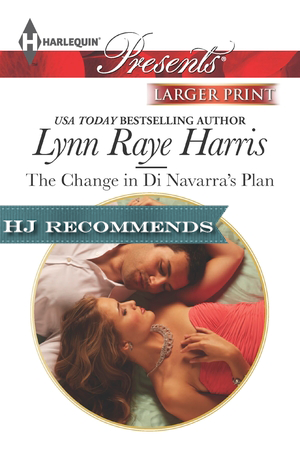 Life has taught Drago that people always have an agenda on their mind and will not hesitate to the unthinkable for their personal gain. Holly was the only person he felt was unspoiled and still innocent to the ways of the world but soon she also showed her true colors. But Drago's about to uncover the secret Holly's been hiding, and all of his carefully laid plans will come undone!
"You don't strike me as the 'home and in bed by ten o'clock' type."
The moment she said it, she wished she could call the words back. Heat flared in her cheeks, her throat, at the mention of Drago and a bed. Good grief, what was the matter with her?
Drago arched one eyebrow, and she knew he wasn't about to let her get away with that statement without comment.
"Oh, I most definitely am the 'home and in bed' type. Sometimes, I like to skip the evening out and go straight to bed."
Drago was an alpha hero who had a jaded view of everything and always made his own conclusions regarding everything. I understood that his cynical attitude was due to an unfortunate childhood incident but his mistreatment of the heroine at the beginning of the  book took me a long time to warm up to him. Holly was a naive and innocent heroine who had to struggle a lot due to Drago and somehow his mistreatment made her remove her rose tinted glasses and face the world a with a stronger attitude. She was a damsel in distress in every sense and I personally do not prefer them that much but she was still likable. The chemistry between the characters was amazing and the sparks just kept flying. There were some sweet, possessiveness, passionate moments and a well deserved groveling from the hero at the end.
Drago wanted to rip her from the other man's grip and claim her as his in front of all these people. So no man would dare to touch her again.
Instead, he tamped down on the urge to fight and strode toward the laughing couple
"Grazie, bella mia," Santo said as he took Holly's hand and kissed it. "It's been a pleasure talking with you."
"And you," she replied, her voice soft and sweet in a way it never was with him. With everyone else—Nicky, Sylvia, the passport clerk, a flight attendant—but never him. That thought grated on his mind as he took Holly's hand and gripped it tight.
The Change in Di Navarra's Plan has a cynical hero who misbehaves with a naive but determined heroine.Their circumstances appear far fetch. But despite all the flaws, I still loved the book and maybe its not logical to love something so irrational but I could not help it, making this book my guilty pleasure.
Overall The Change in Di Navarra's Plan is a good fantasy and passion packed romance with solid writing and great execution by Lynn Raye Harris.I would recommend this to anyone who is looking for a good passion and fantasy filled romance.
Book Info:

 HJ Recommends 
Published November 19th 2013 by Harlequin Presents  (Book 3198)
The scent of success
It's been a long time since aspiring perfumer Holly Craig naively gave in to the practised charms and false promises of playboy Drago Di Navarra. Now, as the face of his next cosmetics campaign, Holly will prove she's a more than worthy adversary for the intoxicating CEO…
On the surface Drago is the epitome of precision and power. Yet he is haunted by the memory of a seemingly innocent girl and the moment he discovered she was just like all the rest. But Drago's about to uncover the secret Holly's been hiding, and all of his carefully laid plans will come undone!