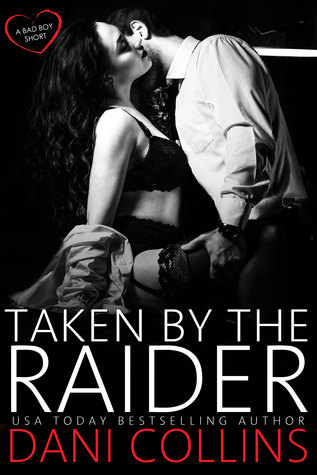 Taken by the Raider by Dani Collins: This short novella certainly packs a punch to your heart. Ms. Collins has given her readers a quick one two with unforgettable characters that reach for your heart and don't let go. Somehow she manages to get in a fast paced but well thought out plot line that has you remembering why you love her writing style so much. The story is very clear and doesn't leave you wanting, well for anything else than another one of her stories. Pick up this novella if you want something hot, something with a bad boy, and something quick to heat you up.
Book Info:

 February 11th 2016 | Tule Publishing |
The first time Aubrey Hargrave was "acquired" by corporate raider Griffen Woodlock, she was unable to resist his potent sexuality. She made the fatal mistake of mixing business with pleasure, but had to end their passionate affair to save her father's reputation—and her heart.
At 20, Griffen pushed his abusive father out of his CEO position to take the chair himself. Aside from indulging his passion for beautiful women, Griffen hasn't made an emotional decision since. When Aubrey cuts short their white-hot affair, he tells himself she can easily be replaced. Except she can't.
Discovering Aubrey's family secret gives Griffen the power to force a second take-over, but he intends to seize more than her business. He wants her.