Nightfall by Penelope Douglas: Douglas's long awaited Devil's Night Series finale, Nightfall, pumps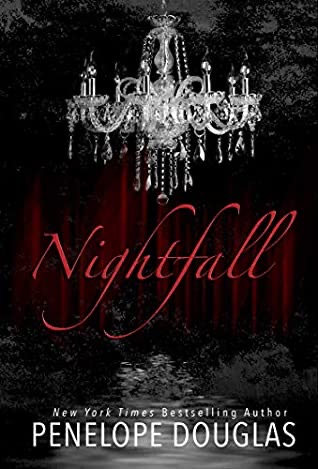 with a kind of underground cult-type heart beat, that lives on the very visceral edge of Magical Realism from start to finish. From the onset, complex battle lines of love and abuse are drawn, and quite flawlessly, it is here that Douglas is able to shine light in the darkness, offering up some pretty philosophically profound one-liners and sentiments that root her characters in the belly of the human condition.
Will and Emory, the stars of our ending, are told initially through a non-linear narrative; a brilliant backstory that was effectively used to contextualise the here and now, adding layer upon layer to our two conflicted protagonists.
Will, whose patience is akin to that of a saint, is poetic in his love and adoration of the broken Emory, who in turn struggles to trust, and who is daily dealing with very harsh victim-based guilt issues – suffering in relative silence to keep her fading grandmother safe. Despite the two doing significant damage to each other along the way, both have incredibly valid reasons for their behaviours and so the moral conundrum of' who messed the other up the most,' is a constant throughout.
Naturally, as is Douglas's want, she pushes the envelope on all sides, yet, her ability to craft tension; the unexpected, the task, anticipatory, sexual, is what holds the narrative together. At times things did feel a little Adult Hogwarts, with crazy sex trains and secret rooms in churches, yet what always remains constant is the unyielding love and loyalty her characters have for each other.
Increasingly throughout the series, it became evident that the inter-related nature of the characters from Thunder Bay were only a whisker shy of becoming the cast of Deliverance for the obscenely rich and powerful. In Nightfall, the sentiment is no different, and yet somehow, that makes for an entirely wild and fun ride. From the beginning scene at Blackchurch – an isolated prison for the sons of the filthy rich who have gone AWOL, to the happily ever after ending, there is tones of fun and buckets to love. Without doubt, this is a spicy dish that requires a bold appetite and thus, it is highly recommended that you put a brave napkin in your lap and simply dig in!

Book Info:

Publication: July 24th 2020 | Penelope Douglas LLC | Devil's Night #4
From New York Times bestselling author Penelope Douglas comes the thrilling, final installment in the Devil's Night series…
What happens when it's five against one and nowhere to run?
EMORY
They call it Blackchurch. A secluded mansion in a remote, undisclosed location where the wealthy and powerful send their misbehaving sons to cool off away from prying eyes.
Will Grayson has always been an animal, though. Reckless, wild, and someone who was never bound by a single rule other than to do exactly what he wanted. There was no way his grandfather was going risk him humiliating the family again.
Not that the last time was entirely his fault. He might've enjoyed backing me into corners in high school when no one was looking, so they wouldn't catch on that Mr. Popular actually wanted a piece of that quiet, little nerd he loved to torture so much, but…
He could also be warm. And fierce in keeping me safe.
The truth is… He has a right to hate me.