In Quarter Miles (Runaway #3) by Devney Perry , It's been a long road for Katherine Gates to find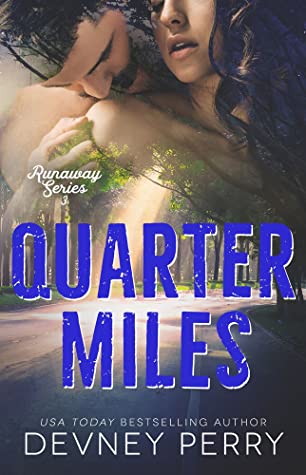 peace in her life, but she's finally done so in beautiful Montana. Well, almost. As the general manager of the prestigious Greer Ranch and Mountain Resort, she's proven her worth since her days as a teenage runaway living in a California junkyard. Things would be just about perfect if Katherine's feelings for her roommate and best friend, Cash Greer, would either go away or be reciprocated. But neither seems likely to happen.
'I smiled, anxious to pick up the Cadillac and sit behind the wheel. One more stop, then I was gone.
One more stop, then I'd take this trip by quarter miles.'
Then Katherine decides on an impromptu road trip to Oregon in the red Cadillac two of her former runaway friends have driven across the country, finding their own HEAs. Her goal is to clear her mind, let go of her crush on Cash, and track down another one of her previous junkyard roommates, Aria. But Cash butts in on the trip and makes the trek along with Katherine. He's happy to have his best friend all to himself. Until Cash realizes that without the interference of his family and co-workers at the ranch, his feelings for Kat are much stronger than merely friendship. And he's not sure what to do about it considering something he's been keeping from Kat for a few years now.
'But Kat wasn't only my friend. She wasn't only my best friend.
She was mine.'
Some books have relationships that are so real and the characters so absolutely perfect together that it's addictive. Quarter Miles, Devney Perry's newest friends-to-lovers romance, was exactly that and much, much more.
'He took a long step into the room. His hands came to my face, his palms cupping my cheeks.
And then Cash, my best friend, kissed me.'
Have you ever read a story that was a slow burn with an incredible build up to the first kiss, the first admission of feelings between the hero and heroine, to the point that you actually cheer when it finally happens? That was me with Devney Perry's Quarter Miles. Cash and Katherine were *everything* together. Even if they just wouldn't get out of their own way and admit to what was happening between them–or, you know, communicate. At all. (lol) But Perry always creates such likably flawed people that not only do they seem genuine in how they react, but they also work their way into your heart right from the start.
Friends to lovers is one of my favorite tropes for a reason. There's nothing like watching long-time friends give romance a go–and to have it work out in their favor. It looked a little iffy for Katherine and Cash for a bit. They were both so stubborn! But they had a wonderfully solid connection from over a decade of friendship, with a nice level of trust too. Well, as much as Katherine trusted anyone after her harrowing childhood. As you would expect, that trust between her and Cash was tested in a big way. Although even at their worst, they were both such good people that you knew any mistakes they made were not done on purpose.
I love the premise of this series, with the former runaways who lived in a junkyard in California all basically reuniting at different times as adults. In this installment, Katherine faced down part of her past by taking the red Cadillac to Oregon and looking up Aria. (Aria's book will be next, Forsaken Trail) It was an eye-opener for Cash to finally hear what Katherine's childhood was truly like–before and after the junkyard. And I have to give it to our sexy cowboy that he was so upset on her behalf. Cash was protective in the best of ways which was exactly what Katherine needed in her life. Sigh…
Quarter Miles is further proof of why Devney Perry is one of my go-to authors for contemporary romance. She isn't afraid to delve into the messy emotional depths or tragic backstories while putting her characters through their paces in their search for a HEA. And as a romance fan, I can't ask for more than that.
Book Info:

Publication: Published July 21st 2020 | Devney Perry LLC | Runaway #3
Katherine Gates has been in love with Cash Greer since the moment he saved her life from a runaway goat. According to Cash, she's the little sister he never had, the greatest roommate in the world and his favorite coworker. They're friends—best friends.
In the dark days of her youth, it was her friendships that kept her alive and made life in a junkyard worth living. So she's learned to shove her feelings for Cash down deep, even if that means ignoring eyes that shine brighter than the Montana summer sun and the smile that illuminates the snowiest winter day.
Except with every passing year, the denial takes its toll on her wounded heart until one day Katherine decides to take an impulsive road trip to the Oregon coast. Alone. That is, until Cash cons his way into the passenger seat.
The farther they travel, the harder it is to pretend. And when she confesses her feelings, she learns that Cash has some secrets of his own. Secrets that will either bond them together.
Or rip them apart.