No Longer Forbidden? by Dani Collins will twist your heart with very emotional scenes and some hot ones too.
Rowan O'Brien is going through a very rough time in her life. It's been almost a year since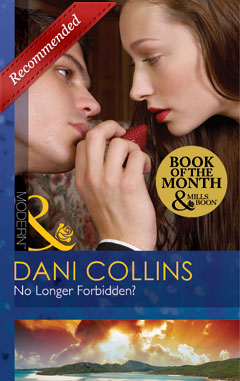 her mother and her mother's lover disappeared on a plane crash. Now she must come to a decision on what to do with her life.
Nic Marcussen grew up under a cloud of shame rejected by both his mother and father. He has worked hard to be where he is, but he was never able to get close to his father since he saw his mistress's daughter as his own more than Nic.
Now Nic will make sure that Rowan is no longer spending money that doesn't belong to her. All she has been doing is partying and dancing while he has been working very hard to keep his father's company afloat. And with Rowan back in the Marcussen Mansion he will make her sign the documents to request a court to declare their parents dead.
But what Nic doesn't expect is the chemistry that has been plaguing him for a couple of years to still be there. With his father is no longer there to make him feel like he is not worth his mistress's daughter he will see where everything leads.
But both Nic and Rowan will have to face their many misconceptions about each other and open themselves and reveal their secrets if they want something lasting to happen here.
Dani Collins congrats on a great debut book and I look forwarding to reading more from you.
Rating:

Book Info: Published January 1st 2012 by Mills & Boon
The limits of his control
Rowan O'Brien will always be the thorn in Nic Marcussen's side. She was the only woman to tempt him beyond his steely control…the only woman strictly forbidden to him.
Years later, Nic s sole focus is business the boy who grew up under a cloud of shame now has the world at his feet. Until tragedy brings Rowan back into his life and his façade begins to crack.
In the seclusion of the Marcussen mansion in the Mediterranean their deeply buried secrets surface and they are forced to confront their darkest desires!