Airman to the Rescue by Heatherly Bell Ever since she stepped foot in Fortune and met Matt, her brother's best friend from the air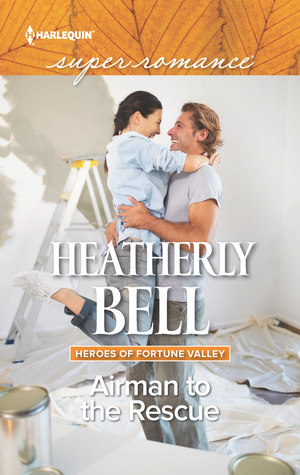 force, Sarah has been unable to get her mind off him. He'd become her confidante and best friend when dealing with her father and estranged brother, but Matt's about to become so much more when they make a deal for him to take the place of her contractor in exchange for a place to live.
If it weren't for the bro code, and the fact that Sarah has no plans to stay, Matt would love to take a chance on Sarah. But as it is, nothing can happen with her and he'll just have to keep resisting her draw. Although, living with her might make that kind of hard.
But Matt wants to focus on his teenage son, the one he doesn't know nearly well enough after his years abroad in the air force. So as Matt tries to officially become a parent, he'll also have to balance all he wants and can't have with Sarah.
He was not picturing accidentally running into her coming out of the bathroom with only a towel wrapped around her naked body the way she'd been imagining in the few seconds since he'd mentioned the idea.
"This house has one bathroom. One."
He grinned. "I was taught to share."
Bell's writing style just does not work for me. It feels too stiff and, for me, the characters end up unlikable. A big issue I've had in this series overall is how she deals with parents. All the parent-child relationships are very odd and everyone seems to come to odd conclusion about what it means to be a parent. I can't say I'm happy for any child, whether teen or now adult, in this series.
The romance between Matt and Sarah I liked well enough. I can't say it necessarily sparked my interest because they both just bored me a bit. Nothing was particularly unique about each of them, and I'm still not entirely sure why they like each other. While I definitely dealt with their issues, I don't feel I actually got to know Matt or Sarah as people.
Airman to the Rescue can be read as a standalone, but it's always nice to read the first in a series to get a better feel for the background and past conflicts that make an appearance. For those who enjoy their parent romances, I recommend Bell's story. There is a definite focus on that aspect of their lives.

Book Info:


Publication: June 1, 2017 | Harlequin SuperRomance | Heroes of Fortune Valley #2
She's off-limits…and perfect for him!
It was supposed to be easy. Sarah Mcallister was going to flip her late father's house and head back to Colorado for a fresh start. But when her shady contractor gets arrested, taking most of her budget with him, she's at risk of losing everything. Enter Matt Conner…sexy pilot, single dad, Sarah's brother's best friend…and far too good with his hands for her peace of mind.
Moving into Sarah's spare bedroom is just asking for trouble, but Matt's trying to make amends with his troubled teen son, and a key step is finding a decent place to crash for as long as it takes. And the woman needs his help. Unfortunately, the closer the house gets to reno-perfect, the more he knows Sarah is meant to stay in Fortune Valley…with him.