No Words by Meg Cabot: Bestselling children's author Jo Wright has been having a tiny case of the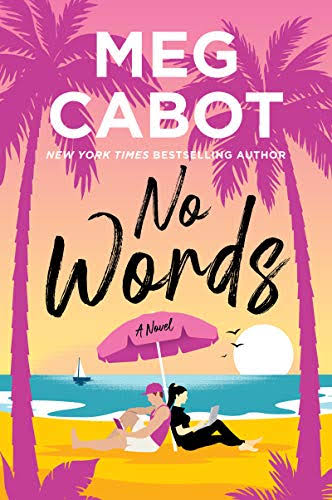 writers block, with Kitty Katz book 27 firmly on hold and her father needing to move, Jo finds herself in a bit of a jam. Which makes turning down a fully paid for invitation to Little Bridge Islands first ever book festival hard to pass up. The only issue being Jo swore never to step foot on the quaint little island for as long as her fellow writer and nemesis Will Price lives there!
After having been repeatedly assured by her agent that the festival will be a Will free zone Jo agrees to attend, however all goes south pretty quickly when Jo finds out that not only will Will be attending the festival but he is one of the hosts! With Will everywhere she goes will Jo finally be able to confront him on his mean comments or will her newly developing attraction to her enemy only cause more of a distraction?
"Being kissed by Will was like crawling into a cool, soft bed with newly washed cotton sheets. It was like sunshine on your face, after weeks and weeks of gray, drab rain. It was like diving into the clearest, bluest pool of sweet warm water. It was like coming home."
Cabot has created one of the most perfectly fast paced slow burn romance set in one of the cutest little island towns! Also how can you not just love a book based around a book festival and a whole bunch of quirky authors.
I absolutely loved all the characters in this book, be it our two main characters or all the hilarious secondary characters! Jo was definitely an interesting lady to follow around, as much as I loved her the one thing that kept pulling her back was her inability to let go of what Will had said about her books. Nevertheless I still loved following Jo, I mean how could you not love all of her quirky cat themed lingo! I really liked that she used Kitty to help give her strength in real life.
However it was Will that really stole my heart in this book, I loved his shy awkwardness when it came to expressing his feelings for Jo. Getting to see them tiptoe around each other was just the cutest, also who wouldn't give his guy extra points for going to the extent that he did all just to apologize to her in person! I loved the relationship that Will had with his sister and that she too was such a huge Kitty Katz fan.
I always love the extra magic that secondary characters bring to a novel and Cabot has brought out the whole gang in this one! Saul, Frannie, Kellyjean and Chloe all brought out that extra zing to an already amazing read!
I would definitely recommend reading No Words this cute enemies to lovers romance will have you swooning at the cuteness that is Will Price and laughing out loud at the crazy antics these authors get up to while in Little Bridge Island.
Book Info:

Publication: September 28th 2021 | William Morrow Paperbacks | Little Bridge Island #3
Welcome to Little Bridge, one of the smallest, most beautiful islands in the Florida Keys.
Jo Wright always swore she'd never step foot on Little Bridge Island—not as long as her nemesis, bestselling author Will Price, is living there.
Then Jo's given an offer she can't refuse: an all-expense-paid trip to speak and sign at the island's first-ever book festival.
Even though arrogant Will is the last person Jo wants to see, she could really use the festival's more-than-generous speaking fee. She's suffering from a crippling case of writer's block on the next instalment of her bestselling children's series, and her father needs financial help as well.
Then Jo hears that Will is off-island on the set of the film of his next book. Hallelujah!
But when she arrives on Little Bridge, Jo is in for a shock: Will is not only at the book festival, but seems genuinely sorry for his past actions—and more than willing not only to make amends but prove to Jo that he's a changed man.
Things seem to be looking up—until disaster strikes, causing Jo to wonder: Do any of us ever really know anyone?