Now or Never by Victoria Denault is the fourth book in the San Francisco Thunder series. This features Winnie Braddock, one of the sisters of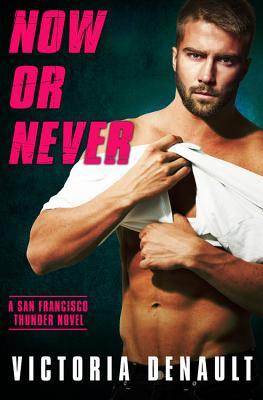 Jude, who plays for the Thunder. After the death of her father leaves her reevaluating everything, including her relationship of ten years, Winne takes refuge at the family cabin in Maine. There she runs into Holden Hendricks, her childhood bully that had been hired by Jude to remodel the cabin. Holden made some mistakes when he was younger, but he wants to prove he's no longer the hurting, immature, and untrustworthy teen he once was. Will they be able to help each other move on from the pain in their lives?
I found myself frustrated with Winnie at times. Her father's wish for her was to find happiness, but she struggles to do so. She was grieving, but she also seemed unable to allow herself to try to move on. She tries to keep one of her sisters from moving on, as well, which was I thought was selfish of her. I also thought she was too hard on Holden at times. He had bullied her when they were younger, but he had been dealing with the loss of his mother and the lack of emotional support from his remaining family members.. He's no longer that person and wants to prove it to everyone, but Winnie struggles to move past who he once was. She has issues trusting him, all while trying to get everyone else to believe he's a different person. It was contradictory to her own actions.
I felt for Holden because he made mistakes when he was younger, but no one seems to want to let him move past it, including his sister. Considering his sister wasn't really there for him when he needed her after his mother's death, I thought her behavior towards him wasn't entirely warranted.
Readers get to see more of the Braddock siblings, especially Jude, who seems to be the only person who believes Holden was always a good guy, even when he was bullying Winnie. But when something goes missing, he's also one of the first people to blame Holden which seems was contradictory to how he was defending his character in the book. It was still good to catch up with everyone though.
While this is part of the San Francisco Thunder series, it has nothing to do with the hockey team. Instead, the book is entirely set in Maine. The only aspect relating to hockey is Holden taking a job as a youth hockey coach in order to spend time with his nephew. If you're looking for an actual hockey romance, this is not it.
I would recommend reading the series in order. First, the decline in the elder Braddock's health has been characterized in the previous books. Also, Winnie has appeared in the previous books, and it will give readers an understanding of how long she had been unhappy in her relationship. Her ex also made appearances as well, so readers get to see how tense things were between them and will better understand her decision to leave him to stay in Maine. It also helps readers to understand how close the Braddock family is.
This wasn't my favorite book of the series. There was some chemistry between Holden and Winnie, but I felt it was diluted because of Winnie's distrust so it wasn't as good as it could have been. Despite that, I thought it was still a good read and would recommend it to those who have been following the series, as well as those who enjoy the enemies to lovers trope.
Book Info:

Publication: January 15, 2019 | Forever Yours | San Francisco Thunder #4
All Winnie Braddock wants is a quiet place to be alone and time to heal her battered heart. But the refuge she'd hoped for in her family's summer cottage is destroyed when she gets there to find Holden Hendricks literally camped out in the driveway. He made her life hell when they were kids, and despite what he says, it doesn't look like much has changed. She doesn't care if her brother hired Holden to renovate the house this winter; she wants him gone.
You miss 100 percent of the shots you never take. Holden knows that hockey saying all too well. After all, he could have gone pro if he hadn't messed up so much as a kid. But now he's desperate to prove he's changed for the better, especially to Winnie Braddock. As the two work together to fix the cottage piece by piece, they realize that perhaps they can give each other the new beginning they've both been waiting for-if they're just willing to take the shot.