On Dublin Street by Samantha Young was one of those books that has the ability to steal a readers heart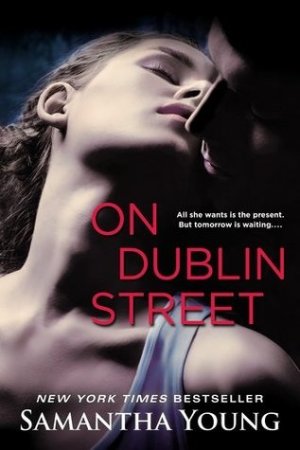 from the very first page. Jocelyn had a very troubled past and I had immense passion for her and I couldn't help but root for her and Braden's relationship. Haha, to the point where I got a little crazy reading what would happen next.
I've always loved books that are set in unique locations and with "On Dublin Street" the reader is transported to Scotland. Jocelyn left the U.S. and ventured to Scotland where she hoped to start fresh and leave her past behind her. This plot point created a good connection for me with Jocelyn. She was a very likable character. Not to mention her and Braden were just cosmically explosive together and I LOVED IT! And the sex, oh the sex! Wow now there's something sure to get any reader hot and bothered!
If you are a person who likes a story that focuses on new beginnings and new relationships I'd fully recommend this debut book in the "On Dublin Street" series. You will not be disappointed by the characters or the easily readable writing style.

Book Info:

Published August 31st 2012 by NAL Trade | On Dublin Street #1
Jocelyn Butler has been hiding from her past for years. But all her secrets are about to be laid bare… Four years ago, Jocelyn left her tragic past behind in the States and started over in Scotland, burying her grief, ignoring her demons, and forging ahead without attachments. Her solitary life is working well—until she moves into a new apartment on Dublin Street where she meets a man who shakes her carefully guarded world to its core. Braden Carmichael is used to getting what he wants, and he's determined to get Jocelyn into his bed. Knowing how skittish she is about entering a relationship, Braden proposes an arrangement that will satisfy their intense attraction without any strings attached. But after an intrigued Jocelyn accepts, she realizes that Braden won't be satisfied with just mind-blowing passion. The stubborn Scotsman is intent on truly knowing her… down to the very soul.