Sleigh Bells in the Snow (O'Neil Brothers #1) by Sarah Morgan The end came so quickly, and I was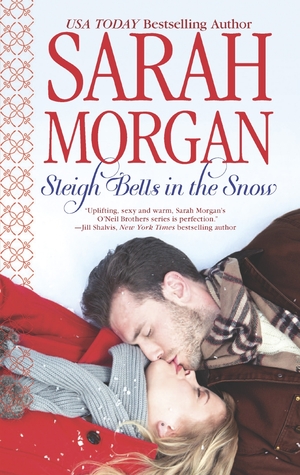 truly disappointed when this book ended. I want to return to Snow Crystal and spend some more time with the O'Neil family.
Eldest brother, Jackson, returns home to Snow Crystal after the death of his father and discovers that the resort is struggling financially. He finds himself instantly at odds with his grandfather about how to handle running the resort. They clash over the slightest change but when Jackson decides to bring in an 'outsider' the battle takes an epic turn. Determined to save his family's legacy he flies to New York to meet with marketing whiz, Kayla Green. The chemistry during their first meeting sets the tone for the rest of the book.
"She thought about Stacy's suggestion that she ask Santa for Jackson O'Neil naked."
Kayla hates Christmas – she even refers to herself as Scrooge at one point. She accepts the offer to visit Snow Crystal for two main reasons (1) to gain first-hand experience but mostly (2) to get the HELL away from everything Christmas. An excluded cabin in the middle of Vermont sounds like the prefect escape plan until she realizes that it meant spending more time with Jackson. Kayla has always succeeded professionally – completely content with her life.
"Cool Air swept across her skin, but she was pressed against the heat of him. Flesh against flesh. Female against male. Fire against flame."
Sleigh Bells in the Snow is a true romance novel, the seduction of the characters pulls you into the moment. I was seduced right alongside Kayla. The author did an incredible job of entrenching each character into the story. The main couple is significant but, the story would have lacked depth if even a single character was removed.
Book Info:

Published: November 1st 2013 by Harlequin HQN | O'Neil Brothers #1
Once upon a time, Christmas was Kayla Green's favorite time of year. Now all the workaholic wants for Christmas is for it to be over—as fast as possible! So when duty calls her to snowy Vermont to close a deal with a new client, Kayla is grateful for an excuse to avoid the holidays for another year.
Jackson O'Neil left a thriving business behind to return home and salvage his family's resort—it's in his blood, and he can't let it fail. Now that he's got marketing whiz Kayla Green working with him to put Snow Crystal on the map, success is on the horizon. The fact they strike enough sparks off each other to power all the Christmas lights in Vermont is just an added bonus.
Kayla might be an expert at her job, but she's out of her depth with Jackson—he makes her crave the happy-ever-after she once dreamed of, and it's terrifying. As the snowflakes continue to swirl, will the woman who doesn't believe in the magic of Christmas finally fall under its spell?