On Hart's Boardwalk by Samantha Young: Nate and Liv have been happily married for ten years and have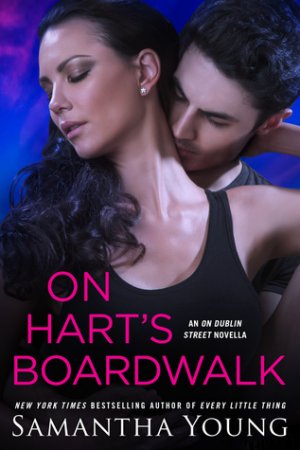 two adorable daughters, but Liv is feeling a growing distance between them. Nate is as sexy as ever and he's a great dad. Over the years, they have had their times when they drifted apart due to busy jobs, raising the girls, and just life, but they've always found a way back to them as a couple. Both are committed to each other, their marriage, and their family, but they need something to help bridge the growing distance and their insecurities.
"I don't need to walk this boardwalk with my hand in yours to know we'll last forever, Liv. I know we'll last forever because I'm never letting you go."
"Nate," I whispered, my eyes stinging with tears. "I've missed you."
"I'm right here," he promised me, and bent his head to brush the sweetest kiss across my lips.
Nate and Liv still have the chemistry and passion they shared from the beginning of their relationship. Taking an unexpected trip to the seaside town of Hartwell gives them an opportunity to reconnect and communicate without interruptions. They laugh, banter, and tease each other as they explore the town and even crash a wedding.
"And I want one dance before we leave," I said, following suit with the food.
"Anything else?"
"You still haven't stripped naked and dived into the ocean at night, so that's on the agenda."
On Hart's Boardwalk is engaging, entertaining, and a good balance of emotional and sexy. Samantha Young pulls you into their life and ensures that you care about these characters finding their way back to each other. Ms. Young seamlessly brought together two worlds and the entertaining characters you know and love. On Hart's Boardwalk can be read as a standalone in both the On Dublin Street and Hart's Boardwalk series. Fans of K. Bromberg and Katy Evans will enjoy On Hart's Boardwalk.
Book Info:

Publication: March 20th 2018 | InterMix | On Dublin Street #6.7, Hart's Boardwalk #2.5
One of New York Times bestselling author Samantha Young's most beloved couples returns for the first time in a brand new novella set ten years after her blockbuster bestseller Before Jamaica Lane…
Nate and Liv have a great life together but they miss the spontaneity and freedom they enjoyed early on in their romance. Careers and their children have inevitably kept them busy, so when Nate discovers Liv is feeling disconnected from him, he plans an anniversary trip to the idyllic seaside town of Hartwell, Delaware. There he hopes they will have the opportunity they've been craving—a chance to reinvent themselves and fall in love all over again.
With each new day comes a new adventure, from wedding crashing at the five-star boardwalk hotel to pretending they are two strangers having a chance encounter at the boardwalk bar. In the midst of this daring, sexually charged game of romantic rediscovery, Nate and Liv discover the only constant they need is each other.