On The Honey Side by Staci Hart: Daisy Blum has long since resigned herself to living the quiet loveless life, after all with her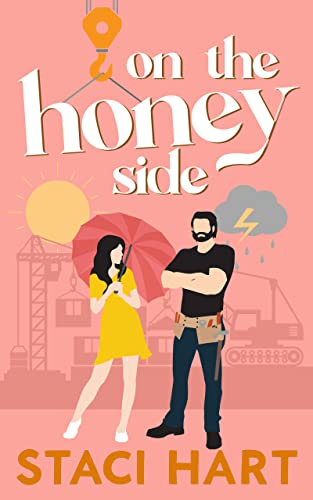 family cures its safer to keep her heart locked up instead of having it crushed all over again by the loss of a loved one. However if there were one man she would be willing to risk feeling the ultimate heartbreak for it would be Keaton Meyer, to bad the reclusive town hottie is just as much guard as she is and a complete no go. But it would seem that her meddlesome sisters did not get this memo as they keep trying to push Daisy and Keaton together as the two families join forces to build a homeless shelter on the Blum property. Will the Blum cures strike again or will these two broken hearts be able to help heal each other?
After the tragic death of his young wife Keaton has found it easier to put his head down and focus on the family construction business instead of having to face the sympathy of the towns people. But with the number of homeless on the rise in Lindenbach and the town once again torn Keaton can't help but offer to help the Blum sisters build a homeless shelter and try to broker some sort of peace in town, however he definitely did not sign up to have his brothers try and throw him together with the beautiful Daisy Blum or for his shut of heart to finally beat once again… the question is can Keaton finally open himself to the possibility of being loved and loving again?
"Everything abandoned deserves a new story."
Well hello warm gooey honey sweet small town romance, On The Honey Side was just the perfect slow burn, second chance, small town romance that will warm you heart and have you swooning at the magic that Hart creates so brilliantly. I just can't get enough of these Blum ladies and their journey to finding love. Like in the previous book we get to see the Blum sisters take on the dreaded family curse and come out on top, I absolutely ate up this honey sweet slow burn romance between the eldest Blum sister and the eldest Meyer brother, these two could not have been better suited for each other, both having experienced similar heartbreak at such a young age and having shut their hearts to ever loving again.
"Daisy was everything I could ever want. Giving and kind, clever and determined. She had a softness about her that I knew could toughen in a heartbeat if she had something to defend. She made me laugh when no one ─outside of people I shared DNA with─ could. The more I was around her, the more I wanted to be around her."
Daisy was such a breath of warm happy sunshine, I loved her always positive energy and that she wanted to help fix the homeless problem in her town. As the eldest Blum sister my heart broke for her and the loss that she had to face at such a young age, more so that she closed herself off from really living and only allowed herself to experience happiness through her sisters. I think the fact that both Daisy and Keaton had experienced the loss of their partners so young helped bond them and this only made their connection all the more sweet. I will say their build up was extremely slow burn but good gosh once things hit off it was HOT!!
"Keaton was an anchor to everyone he knew, offering safety and inspiring trust. He'd take care of anyone who needed it. And I couldn't help but want to be taken care of too."
My heart well and truly broke for Keaton, this guy had the weight of the world on his shoulders, not only did he loss his father but shortly after he lost his wife at such a young age and now he is tasked with keeping their family business afloat. Even with all of this going on Keaton will gives so freely without asking for anything in return. I think Keaton is quite easily one of Harts best male characters to date, this guy is genuinely a great caring person that loves his family and his town unconditionally. I absolutely loved the connection that he formed with Daisy these two helped heal each other in away no one else could. The slow steamy build up in the romance only made this book all the more divine. I loved watching them slowly draw each other in and getting to see them flourish together, they really were the breath of life to each other.
One of the things that makes this series so amazing is the role that family plays, I loved that both the Blum's and the Meyers played such a huge role throughout the novel and it was thanks to the much needed push from both sets of siblings that got our lead couple their happily ever after. It was really cute getting to see these two families blend together so seamlessly and in turn also helping to give Sophie a sense of family.
On The Honey Side is an absolute must read.  This sunshine vs grump, slow burn second chance romance will melt your heart and will leave you feeling all warm and happy inside. I can not wait to see what Hart has planned for Poppy on the next book in the Blum'e Bees series, also I do hope that we get to see the rest of the Meyer brother finding their happily ever after.
Book Info:

Publication: February 24, 2022 | Pub: Staci Hart | Blum's Bees #2
No one can ever have Keaton Meyer.
Least of all me.
The brooding construction manager is a man of myth and legend, rarely seen in the wild. Once upon a time, he was the star quarterback, the smiling homecoming king, royalty in our small town. Until tragedy struck. And then he disappeared completely.
Now he's resurfaced, and I can't keep my eyes off him.
He's an island surrounded by lava, bound by a desert and guarded by dragons. I don't stand a sunshine's chance in a hailstorm.
Our siblings disagree and are out to prove it, nudging us into each other in the hopes we'll fall. But with our town in tumult and the two of us firmly in the middle, nothing between us is easy. And when he's faced with an impossible decision, I learn the truth of what I already knew.
No one can have Keaton Meyer.
And I have the broken heart to prove it.