Tall, Dark and Off Limits (Men of Maddox Hill #3) by Shannon McKenna:  Ava Maddox is used to negative comments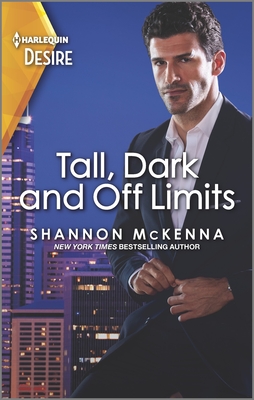 on social media. However, when they threaten her safety, she turns to Maddox Hill CSO Zack Austin to help unmasking who's stalking her. All the red flags are raised in Zack's head, who will do everything to protect his best friend's sister. He even goes with her to LA, on Ava's business trip, as her personal bodyguard. It is then when the sparks between them jump into the air.
Ava and Zack are very similar but different at the same time. They have known each other for 10 years. As soon as they see each other for the first time, the sexual attraction and chemistry ignites. They keep it hidden, despite what they feel for each other, because they both think it's a forbidden feeling. Zack believes that he's out of her league not only because Ava is his best friend's little sister, but because he finds her unreachable; he considers himself inferior to Ava, "the princess of Maddox Hill". Ava, for her part, has always thought that Zack perceives her as a superficial girl, that her PR job is just a way to kill her time and that she's only interested in getting her family and social media's attention.
Farther from the truth. Zack is a former Marine, a man who has struggled to be the successful man he is today. Loyal, he takes his job very seriously and has a big heart that has been crushed in the past by a frivolous girl. Likewise, Ava is a woman with her feet on the ground, dedicated to her work and lives marked by the death of her parents in a plane crash, which causes her insomnia and severe nightmares. A visionary, she seeks to help the environment by investing her money in an innovative project that could take sustainable technology to the next level. However, both have certain inferiority complexes that make them keep hermetic to each other, being constantly on the defensive.
This story takes place chronologically in just a couple of weeks (perfectly justified, let it be clear) but, because they know each other for so many years, it doesn't suffer from a lack of intensity. Also, what Ava and Zack have experienced in the past defines their personalities. At the same time, the environment around them, with family (Ava) and friends (Zack) surrounding both hero and heroine, create an ideal atmosphere for the couple's relationship to flow organically.
It is worth noting that some secondary characters, especially Craig (Ava's ex-boyfriend) and Ernest (her assistant), bring the element of surprise to the plot. And it's that the author knew how to play with the speculation factor in an effective and right way. Just as the pace is impeccable and the book is very well written, with detailed information on sustainable technology without the reader skipping pages.
This third installment of Men of Maddox Hill has been a very well developed story, full of intensity and some intrigue. A book that deserves to be read.
Book Info:

Publication: December 28, 2021 | Harlequin Desire | Men of Maddox Hill #3
His job is to protect his best friend's sister…not seduce her! Don't miss the conclusion of the Men of Maddox Hill series by New York Times bestselling author Shannon McKenna.
When it comes to his best friend's sister
he's tempted to be much more than her protector…
Assigned to keep an eye on social media darling Ava Maddox, security expert Zack Austin is more than up to the task. After all, she's like family. But dealing with the dynamic beauty requires every ounce of patience…and sexual control. They've been denying their forbidden feelings for way too long and soon professionalism gives way to passion. Zack's willing to face her overprotective family's wrath, but is Ava's talent for finding trouble about to explode in his face?
From Harlequin Desire: A luxurious world of bold encounters and sizzling chemistry.
Love triumphs in these uplifting romances, part of the Men of Maddox Hill series:
Book 1: His Perfect Fake Engagement
Book 2: Corner Office Secrets
Book 3: Tall, Dark and Off Limits