Once Upon a Billionaire by Jessica Lemmon: Vivian Vandemark once lived a life of wealth and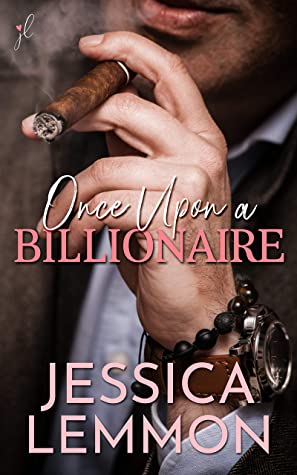 privilege when her last name was Steele. That all came crashing down when her father was arrested and sent to prison after stealing millions from investors. Over time she lost both her parents and ends up having to help her brother who becomes an addict. She gets him into rehab and prays for the best.
She creates a new life for herself with her new name. She takes a low level job with a government office that does building inspections. She is just supposed to work in the office, but one day her boss sends her out to a huge site with the claim there may be wiring issues.
Vivian meets Nate who is a billionaire behind the work/live complex known as Grand Marin. After his over the top gesture to show her the quality of the wiring. Nate invites Vivian to dinner. When Vivian is not flustered by the elegant restaurant dinner, Nate wonders about her background. Nate shares his own background. He had addicts for parents along with abuse. He was fortunate to end up being adopted by the Owen family. They had wealth, but also set him on a better path in life and showed him unconditional love.
Nate only plans on a one night stand with Vivian, but the chemistry between them is super hot. He showers her with special dates and gifts and it is hard for her to resist his charm and innate goodness. Vivian is still afraid everything could change in a heartbeat if her past came out. Can the two of them overcome their pasts and have a future together?
As the author reveals more about the past of the two main characters, it becomes heart wrenching at times. It is easy to feel empathy for both of them. Although they have moved on, there is that pain right below the surface. Vivian shows true unconditional love for her brother Walt. She really would do anything for him.
Although Nate and his adopted family are wealthy, they are very giving and loving. Benji, Nate's other adopted brother, is cute with his upbeat attitude and his "life assistant coach". Nate is driven in his work, but he can make time to have fun with his family and Vivian.
Once Upon a Billionaire is a very spicy romance and perfect for those readers who like it hot. Author Jessica Lemmon has quite a backlist and will have her next Blue Collar Billionaire novel coming out in the near future. I will look forward to reading it.

Book Info:

Publication: September 8, 2020 | Lemmon Ink | Blue Collar Billionaire #1
I never finish a project late. Ever. So, when sassy, stilettoed Vivian Vandemark swaggers in with a roll of red tape to shut down my construction site, you can imagine my reaction. Although, it involves a sledgehammer and perfectly good drywall, so maybe you can't.
She doesn't look or act like any government employee I've met and I'm determined to uncover her secrets. When I lean in, I lean in hard. But so does Vivian. Now that we're incinerating the bedsheets, we're in way over our heads.
What started out as physical infatuation quickly morphs into more. Vivian is staying at my place and I'm helping bury her father. She's meeting my adoptive family and I'm hiring her fresh-out-of-rehab brother. With our checkered pasts, trust doesn't come easily, but hell if I let that stop me from living happily ever after…