The Wedding Date Disaster by Avery Flynn: From the time she was a young girl Hadley was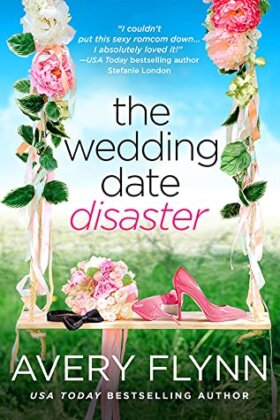 determined to get out of the country and live her best life in the big city. However big city live is definitely not what she expected it to be, but the one thing she does have going for herself is her amazing best friend, Web has really been the silver lining to many a dark days, his twin brother however is a completely different story. Not only does Will dislike her for some reason but the unfairly good looking jerk kissed her in a coat closet and then went on to get her fired from her job. Still licking her wounds after getting the boot from her job, Hadley finds herself at the airport on her way back for her baby sisters week long wedding celebrations. At least she has Web to play buffer against her families well meaning questions. So you can just imagine her shock when she sees Will walking of the plane in his thigh blue jeans and fancy cowboy hat, instead of Web.
"Nothing in her life had gone right since she kissed the wrong man in a coat closet."
From the time their parents died Will has felt like he has to protect his brother and that includes protecting him from the gold digger posing as his supposed best friend, Hadley. And if that means he has to cowboy up and spend the week with the gold digger herself, in order to protect his brother so be it. The only problem being as much as he tries he can't seem to dampen his attraction to Hadley. Determined to get to the bottom of what Hadley is trying to get out of his brother, Will definitely did not expect to find that he had so much in common with Hadley. Being pushed together during the long drives and her kooky family game night Will soon begins to realise that he might have misjudged Hadley. That is until his own insecurities pop back up and threaten to ruin the best damn thing to happen to him.
"She was about to find out firsthand just how good the bad Holt twin could be."
I LOVED this novel, Avery Flynn has created a brilliantly hilarious romance and I loved every single second of Hadley and Will's love story. I think that I can safely say that The Wedding Date Disaster is my new favourite enemies to lovers romance. This is one novel that I could not put down. As much as I loved both the main character, it was PawPaw that stole the show for me. This golden oldie was such a hoot, not only was he living it up in the retirement home, but he had both Hadley and Will really waking up to what they had right in front of them.
"There was just something about the bare feet, muscled chest, damp hair, almost-totally-naked combination that gave him a sexy, vulnerable vibe that was her catnip."
For the main characters, I have to say that not only were they perfect for each other but their chemistry was of the chats hot! I will say that I loved that Hadley stuck to her guns and that she did not let anyone walk over her. Though it was nice to see the way her family rallied around her once she came clean and they helped her find her feet. Now on to our hero Will, as much as I loved seeming him relax and get into the farm life, I will say that I wanted to give him good shake, like boy stop living in the past, not everyone is out to use you. Though he did come around. I have to give it to Web though he truly is the genius behind his brother and best friend finally waking up to their feelings and the way he went about it was just hilarious.
Overall I absolutely love The Wedding Date Disaster, this book has definitely earned itself a spot on my top ten novels of 2020. Do your self a favour and get yourself a copy of this novel, you will be entertained from start to finish.
Book Info:

Publication: August 25th 2020 | Entangled: Amara |
Hadley Donavan can't believe she has to go home to Nebraska for her sister's wedding. She's gonna need a wingman and a whole lot of vodka for this level of family interaction. At least her bestie agreed he'd man up and help. But then instead of her best friend, his evil twin strolls out of the airport.
If you looked up doesn't-deserve-to-be-that-confident, way-too-hot-for-his-own-good billionaire in the dictionary, you'd find a picture of Will Holt. He's awful. Horrible. The worst―even if his butt looks phenomenal in those jeans.
Ten times worse? Hadley's buffer was supposed to be there to keep her away from the million and one family events. But Satan's spawn just grins and signs them up for every. Single. Thing.
Fine. "Cutthroat" Scrabble? She's in. She can't wait to take this guy down a notch. But somewhere between Pictionary and the teasing glint in his eyes, their bickering starts to feel like more than just a game