In Once upon a Royal Christmas by Robin Bielman, after a major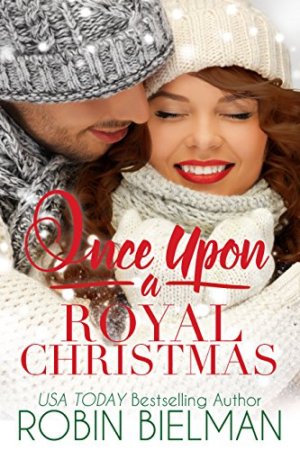 blunder concerning her career, Rowan Palotay is lucky to still have a job as a reporter. However, with Christmas just around the corner, could her luck be changing? It doesn't seem like it with the way she meets Prince Theodore Chenery, but soon she finds herself spending time with him. Can their friendship grow to be so much more, or will the Prince's royal duty get in the way of them finding happiness?
"It's what my friends call me."
"Are we friends?"
"You are wanting in my pants."
She threw her arms up in the air. He wasn't serious. "What? I do not."
"You don't want to take my pants to be cleaned?"
The death of his mother has made Prince Theodore Chenery determined to meet the grandparents he's never known. But never did he expect to be intrigued by a woman, especially not the spirited Rowan. Spending time with her isn't a good idea, as she makes him crave things that aren't possible. Still, he does and soon he's questioning everything. Should he follow his heart or remain loyal to his duties as a royal?
I always enjoy Ms. Bielman's books, and this story was definitely a big hit for me with it being one of this author's best. It was captivating, fast-paced and provided a few good laughs, most especially the moment that Rowan and Theo meet. She needs a way to make some money, but she never expected the animals she's caring for to embarrass her like they do.
The dialogue was well-written and very entertaining due to the main characters back stories and the decisions both characters have to make throughout. Will the hero choose love over royal duty? Will Rowan decide to change careers once she realizes writing is not her true passion? That there is something else she wants to do more. Moreover, there were some good light-hearted moments between the two main characters that had me smiling constantly, especially because the heroine is so outspoken and feisty.
"How bad is it?" she asked.
"Not bad."
"You always wince when it's not bad."
Hawk chuckled. Theo scowled at him. "It's a little overly sensitive because I broke it six months ago."
"I guess grace doesn't come with the royal package," she teased.
"My royal package is better than anyone else's. Trust me."
The secondary characters in Theo's grandparents and Rowan's family entertained me almost as much as the main characters. Theo's grandma is really fond of Rowan and wants her to find happiness, so there's a little matchmaking from her. Then there's Rowan's best friend, Cassidy, who also happens to be the heroine's brother's fiancé. She gives great advice, and I was cheering when Rowan started to realize that Cassidy was right. That her integrity was intact and she wasn't doing anything wrong with the prince that would jeopardize her job.
Both the main characters were compelling and drew me in more and more to this story with the obstacles they face on their journey to happy ever after. Rowan is fun, impulsive when it comes to showing Theo a good time, feisty, honest and I loved how she said things without thinking; things that Theo takes advantage of by making innuendos. Also, she has some tough decisions to make and I believe she made the right ones for her when it came to Theo and her career.
Crap. She'd said that out loud. "No, not all of them."
"Phew. I thought I was going to have to slay a few dragons for you while I was here."
"I'm no damsel in distress, Your Highness. I can take care of myself."
While Theo, he was a fantastic hero. He also has some tough decisions to make, and I was cheering for the ones he did choose. They were definitely right for him, even if a certain decision ended up causing his dad to be annoyed with him. Because of the announcement that was supposed to be made when he returned home. He's kind and caring, especially when it comes to giving his time to a little girl that's lucky to be alive. He also isn't afraid to cut loose and have fun with things Rowan talks him into such as tobogganing. Indeed, Theo didn't act like a prince and that was a good thing, although it could also get him in trouble when it came to forgetting that paparazzi could click a picture at any given time.
Overall, Ms. Bielman has penned a delightful Christmas themed story in this one where the sex scenes were hot and illustrated the strong chemistry Theo and Rowan had exceptionally well. Rowan knows that there isn't any possibility for a future between them, yet she still willingly spends time with him, knowing that every moment she does she could easily fall in love with him. The way this story ended was perfect; the sort of Christmas miracle Rowan deserved. No way could Theo let her go when his parents married for love. So, why couldn't he instead of having to abide by his duty as a royal? I would recommend Once upon a Royal Christmas by Robin Bielman, if you enjoy Christmas themed books where miracles happen; a story containing a feisty and outspoken heroine; or a story encompassing a Prince that finds he needs to choose between royal duty and love.
Book Info:

Publication: October 20th, 2016 | Tule Publishing |
Colliding with a prince while dog walking isn't how Rowan Palotay pictured meeting royalty, but then lately her life hasn't gone according to plan. With one teensy tiny mistake, her job as a news reporter took a turn for the worse and now she's lucky to have a small pet column in the local newspaper. Christmas is supposed to be a time of joy and magic, but she feels like she's forever stuck on the naughty list.
Prince Theodore Chenery is in Marietta shortly after the death of his mother to meet his grandparents for the first time. When an accidental run-in—literally—with Rowan leads to an unexpected friendship, he finds himself enchanted with the outspoken, feisty country girl. She's unlike anyone he's ever met and her special brand of kindness and honesty make it harder and harder to remember his obligations back home.
Rowan can't afford one more mistake, and Theo's future is already mapped out, but when they find it impossible to fight the passion and deep-rooted emotions between them, they discover what matters most. Until their relationship makes worldwide news… and Theo must decide whether to follow his heart, or his royal duty.