Once Upon an Island by Sarah Ready: Its pretty well known knowledge that single billionaires only go to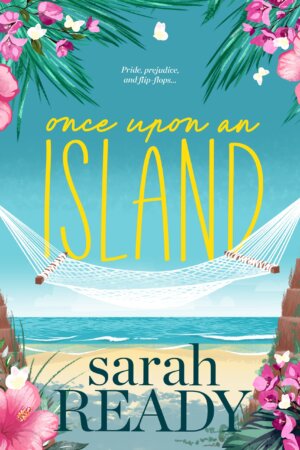 tropical island paradises like Mariposa Island if they are in the market for a wife, well this is according to Kate, Isla's fancy pants British bestie. So when Kate gets wind of two very eligible bachelors arriving on their cute island paradise she makes it her mission to bag herself a white whale and why not drag her girl gang into the marriage mix?
Which is how Isla finds herself stranded on a deserted island with non other than grouchy British billionaire Declan Fox. Now for anyone else this would sound like the beginning of one of those meet cute stories, right? But for Isla and Declan it was more like hate at first sight, with these two rubbing each other up the wrong way each time they meet. But it would seem that fate just keeps on wanting to throw Isla and Declan together no matter how much they both claim to dislike each other. Between being stranded in the rain together, falling of boats and swimming miles to shore something begins to change and Isla has to question if everything that she thought she knew about Declan is actually fact…could the line between hate and love be blurring?
Once Upon An Island is a sweet slow burn romance set in a beautiful tropical paradise. I just loved the way Isla and Declan just couldn't seem to stay away from each other even when they both claimed to dislike each other so much. I really liked that even thought this was a slow burn romance the pace of the book moved pretty quickly. I just loved Isla and her girl gang, it was also really nice that in a way we got three love stories in one book and that all three girls like off played a major role in each others happily ever after.
Isla was such a fun character, I really liked that she was so comfortable with herself and that she really didn't go out of her way to impress Declan. I loved that she was in no rush to bag herself a husband or boyfriend, instead she wanted to take the slow sweet route to finding love and this is kind of exactly what happened with her and Declan. Well to say that they didn't get off to the best of starts would be an understatement, with Declan coming across as this arrogant mean rich guy and to be fair things didn't get any better from there for these two, but that underlying chemistry was very evident with each off their interactions when their arguing changes to banter each time they rile each other up.
Declan was your typical closed off billionaire who held his cards close to the vest, but the more we got to know him the more I found myself warming up to him. A lot of his actions were seen as being done as underhanded and having ulterior motives which is not this case, and we don't get to learn his truth until the very end of the book. I wish Ready had written this book in duel point of views so we could get Declan's thoughts on what was going on. Nevertheless I will say he did save the day in true billionaire prince charming style and wooed his way right into Isla's heart.
I just loved getting to see Percy and Arya falling in love, these two were just the cutest. Their insta love and connection over birds just made my heart melt. Were as Kate and Michael were an interest one, these two were definitely made for each other. Both scheming and plotting their way to what they want. I will say that Michael was not my favourite character, he just had this fishy vibe to him. But I guess things worked out for everyone in the end.
As much as Once Upon An Island is a cute easy breezy romcom read this book touched on the fact that not everything is as it seems and that you shouldn't always take things or people at face value. If I have learned anything from this book it is to always look for the extraordinary in the ordinary situations.
Book Info:

Publication: May 24, 2022 | Swift & Lewis Publishing LLC |
Fun-loving Isla Waterstone loves her laid-back life on Mariposa Island. She has everything she could ever want…a great job as a journalist for the local paper, amazing friends, and pink sand beaches with stunning tropical sunsets.
The only problem with tiny tropical islands? There are more sea turtles than single men.
So when British billionaire Declan Fox and his aristocratic friend arrive, Isla's friends know this can mean only one thing.
Marriage.
After all, it's a truth universally acknowledged, when a single billionaire travels to a tropical island, he must be in want of a wife.
But Isla isn't convinced. Especially because Declan is the most rude, arrogant, prideful man she's ever met.
Or is he?
From tropical Mariposa to England and back again, this playful summer romcom, finds that first impressions don't always tell the whole story.