Trusted & True by Rhenna Morgan is the seventh book in the Men of Haven series. I haven't read the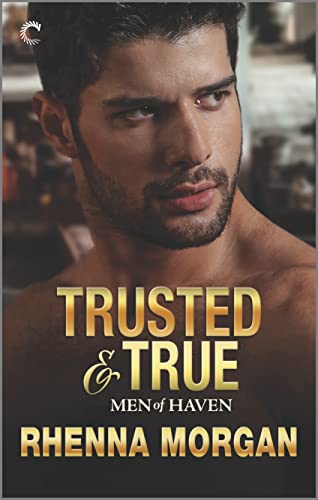 previous books, I will say that I felt I should have at least read the book about Callie's sister, Vivienne. It felt like I was missing some backstory about their history. This book deals with alcohol and drug addiction. It more focuses on recovery, but if that's something that is a trigger for you, you may want to avoid this one.
Callie Moore has been sober for over a year, and finally returns to town to make amends with her sister, who she hasn't had contact with after being cut off from her. At her first AA meeting in town, she announces she needs a job. Jason, a fellow attendee, tells her his boss is looking for an office manager and encourages her to apply. With nothing to lose she does, only to find out that Street Dreamz, where Jason works, is owned by Danny Parker, the best friend of Callie's brother-in-law.
Danny, unbeknownst to anyone else in his circle of friends, has helped Callie out on more than one occasion. He swore the last time was the last, but he notices that Callie looks better, and he wants to believe her declaration that she's clean. As Danny helps Callie, she helps Danny recognize that he needs to make some changes in his own life. When danger comes for Callie, will Danny be able to convince his friends that she's worth saving?
The book felt like it was more about Callie and her recovery, rather than a romance between her and Danny. The romance felt like it was secondary to everything else going on in Callie's and Danny's lives, leaving it feeling a bit rushed and underdeveloped. For readers who are expecting more of a romance, you'll be a little disappointed.
The threat to Callie seems to be over almost as soon as it started. It felt like it was just thrown in there to change the focus from Callie and Danny's issues for a little bit. I would have enjoyed it more if it had been drawn out and developed more than it had been instead of being treated like an afterthought. It didn't take away from my overall enjoyment of the story though.
Trusted & True is a story about redemption, recovery, healing, family, friends, and love. If you enjoy stories about characters who work hard to overcome their demons, mixed in with a little romance and suspense, this may be a book for you.
Book Info:

Publication: May 24, 2022 | Carina Press | Men of Haven #7
The last person Callie Moore is prepared to see when she shows up for a job interview is Danny Parker, the guy who witnessed her at her worst and gave her an ultimatum: get clean or don't ever ask for help again. It's been years since then, and Callie's been through hell, but she's finally doing the work to change her life. That doesn't mean she couldn't use the job. And it doesn't mean her troubled past is completely behind her, either.
When his best friend's sister-in-law walks in looking for a job and a second—or is it third—chance, Danny isn't so sure he's willing to risk it. Even if he does desperately need the help at his custom car shop.
Letting Callie back into his life opens Danny's eyes, and heart, to the woman she is now—and the man he wants to become. If anyone has a problem with that, too bad. Including his skeptical Haven brothers. But when a dangerous part of the life Callie's left behind comes to town, seeking revenge, the family will have to join together to save her—as well as the innocent Haven life caught in the cross fire.