In The Lucky Ones by Tiffany Reisz, Allison has had a lifetime of people leaving her so one would think she'd be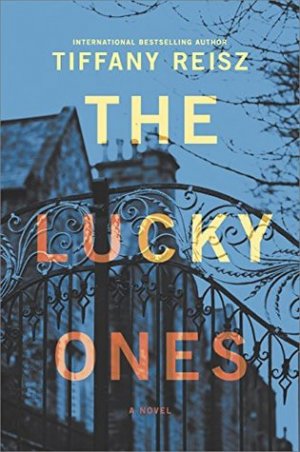 used to it, being that she's now in her mid-twenties. First she lost her mother as a child, then she was taken from Dr. Capello's care, a kindly older man who fostered her; she lost her aunt, and now her six year relationship just came to an end. So when her former foster brother Roland somehow tracks her down to let her know that their "father", Dr. Capello, is unfortunately dying, she decides it's time to go back to Oregon and leave Kentucky for a while.
'She knew seeing Dr. Capello again, and seeing him dying, would break her heart.
But as her heart was already broken, Allison had no excuse not to go.
So she went.'
But going back to Oregon will bring up memories, not to mention questions, that Allison isn't sure she wants to drudge up. Especially the truth behind how she almost fell to her death down the stairs, leading to her being sent to live with her elderly aunt. She's amazed to find Capello's mansion, The Dragon, still holds the same charm and mysteriousness as it did for her as a child. And seeing her fosters again: Roland, Deacon and Thora warms her heart. It's when Allison begins asking questions, digging into the history of each person to ever live in the historic home where things start to go haywire. One secret leads to another lie and another until she's tangled up in a web she wants to escape. But for the sake of herself and certainly of the other occupants of The Dragon, Allison won't stop until she gets the whole truth.
'She was woven so easily and so quickly back into the fabric of life at The Dragon that she hadn't noticed it happening… Perhaps the cord had never been broken between her and them. Perhaps all it took was one quick tug, one little stitch to weave her back into the fold.'
Compelling plot. Flawed, complex characters. Sophisticated, Gothic-style writing. The Lucky Ones is the latest novel by Tiffany Reisz, the master of creating messed up relationships that flirt with the taboo.
'She was in danger in this house, but not from violence–unless it was the violence of her own feelings.'
Okay, I feel like I need to let readers know that this will not work for everyone. It's not a light and fluffy romance. Although it did have Reisz's brand of subtle, witty humor and a couple of love stories unfolding. Instead it was a Gothic novel with dark themes and tons of secrets and lies. There was subject matter that may be disturbing to some, including suicide, mental illness, cheating, and even murder and abuse. It was twisted and almost a little mind-boggling at times, but if you've read any of Reisz's previous novels, I think you'll understand when I say that she crafted this carefully enough that the good moments–the times when the characters truly connected–outweighed the bad.
Once I came to terms with Allison's choices in her previous relationship that ended as the book began, I was able to embrace her situation and hoped she would find the answers she had been seeking for over a decade. Hers was also a very emotional, almost psychological, journey. One that readers will have to piece together with every new fact Allison uncovered once she returned to Oregon. I had to admire her strength and her ability to look at all sides of the puzzle. It would have been very easy for her to not show any empathy to her former foster brothers and sister, or to the man who initially rescued her but who let her go in the end. Allison proved, though, that she had a huge heart and the capacity to do what needed to be done–even if it wrecked her emotionally.
It was Allison's relationship with Roland that I think may give some readers pause, particularly once certain secrets are revealed. Although I just couldn't help but fall for him. He was a gentle yet protective man who was a pillar of strength for his foster siblings both in his youth and as an adult. Roland might not have been exactly who he appeared at times, but I hope readers will understand the precarious position he and the rest of the "Lucky Ones" were in and the secrets they were forced to keep over the years.
The Lucky Ones is yet another stellar piece of fiction from Tiffany Reisz, a mysterious story which plundered hidden depths and where there was much more to each character's past than met the eye. And for fans of The Bourbon Thief, you'll get an added bonus of seeing a bit more of Cooper McQueen (and his relationship with Allison) here.
Book Info:

Publication: February 13th 2018 | MIRA |
They called themselves "the lucky ones."
They were seven children either orphaned or abandoned by their parents and chosen by legendary philanthropist and brain surgeon Dr. Vincent Capello to live in The Dragon, his almost magical beach house on the Oregon Coast. Allison was the youngest of the lucky ones living an idyllic life with her newfound family…until the night she almost died, and was then whisked away from the house and her adopted family forever.
Now, thirteen years later, Allison receives a letter from Roland, Dr. Capello's oldest son, warning her that their father is ill and in his final days. Allison determines she must go home again and confront the ghosts of her past. She's determined to find out what really happened that fateful night–was it an accident or, as she's always suspected, did one of her beloved family members try to kill her?
But digging into the past can reveal horrific truths, and when Allison pieces together the story of her life, she'll learns the terrible secret at the heart of the family she once loved but never really knew.
A vivid and suspenseful tale of family, grief, love—and the dark secrets that bind everything together—Tiffany Reisz's latest is enthralling to the final page.