One Night with a Cowboy (Silverado Lake #2) by Sara Richardson is the second book in her Silverado Lake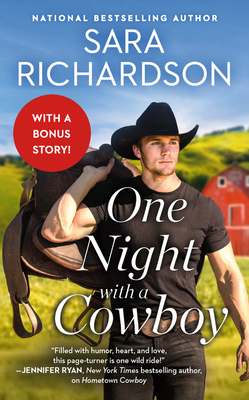 series. I loved the characters in this story.
Thea Davis is a single mom with two kids, Olivia (13) and Ryan (10). She lost her husband while he was deployed overseas. Everyone thought the two of them had a perfect marriage. But they were wrong, very wrong. Just before her husband's final deployment Thea told him she wanted a divorce. That's where the guilt comes in. Now she leads the annual Project Sanctuary trip to Silverado Ranch in Colorado each year. This is a ten day retreat for military families to relax and enjoy quality family time together. This year Thea shares running the retreat with Wes Harding, Silverado Ranch's owner's son. Thea is surprised at how attracted she finds herself to Wes. Not only is Wes attentive to her but he is also great with Olivia and Ryan. Can Thea open her heart and accept love and trust with Wes?
Wes Harding is a rodeo clown. He is good at his job and has just been offered a promotion as head of his team. In rodeo down times he helps out his sister Jane who runs Silverado Ranch. That's how he happened to be in Colorado for Thea's Project Sanctuary retreat. Jane had gone into premature labor and was in the hospital on bed rest. Something changed in Wes when he met Thea. She made him feel differently, more at peace with himself. He carried his own load of guilt as he believed he was responsible for his dad's death. His dad died in a kayak accident at the ranch. Wes was supposed to go kayaking with his dad the morning of his accident but Wes slept in, hungover, and didn't go meet his dad. Maybe it's time to forgive himself.
Thea is uptight, closed-off at the beginning but learns to "let loose" with Wes. Wes has been "running away" since his father's death, overcome with guilt. The two together heal the guilt and accept their feelings for each other. Thea's son Ryan is quite a character. His attitude and actions, especially with Wes, added so much to the story. It was entertaining reading about all the fun activities at the ranch. Made me wish I could jump into the book and have fun with them. I really like this author's voice. Can't wait for more stories.

Book Info:

Publication: March 9th 2021 | Forever | Silverado Lake #2
Sparks fly when a handsome cowboy and a strong-willed widow must work together, in this charming contemporary western romance from a national bestselling author — with a bonus story by Carly Bloom!
Rodeo cowboy Wes Harding left his family ranch after one reckless mistake cost his loved ones everything. But when his sister needs help, Wes agrees to come home and take the reins of their ranch's big charity event. However, he didn't plan for his distracting, stubborn co-hostess. One kiss with Thea throws his world off balance . . . and has Wes craving the family he's never dared dreamed of.
Single mom Thea Davis doesn't have time for an inexplicable, toe-curling attraction to Wes Harding—no matter how well he listens or how sweetly he treats her children. Her focus needs to be on holding her fragile family together. But the more time she spends with Wes, the more attached she—and her kids—become. With the week drawing to a close, can Wes convince her to give love a chance before she leaves Silverado Lake—and him—behind for good?
Includes the bonus novella It's All About that Cowboy by Carly Bloom!